PHOTOS
Sean Astin Grows Up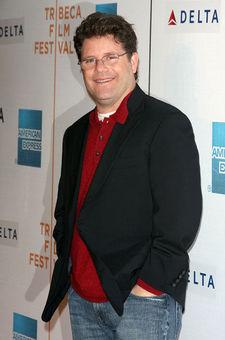 Sean Astin was a teen magazine staple during my formative years, which were spent idolizing Debbie Gibson and plastering my walls with pinups of The Party.
The Goonies actor is all grown up now, though, and I caught up with him this week during the Tribeca Film Festival premiere of back-to-high school comedy Stay Cool, which also stars Winona Ryder, Hilary Duff and Chevy Chase.
Sean, 38, has been married to wife Christine since 1992, and is dad to Alexandra, 12, Elizabeth, 6, and Isabella, 3. (He's also the son of actress Patty Duke.) Get this -- he promised me he'd say "unique and interesting things." In this interview, he talks family, American Idol and rewinding to high school.
Article continues below advertisement
This movie's called Stay Cool. What's the coolest thing about having three daughters?
Everything! The coolest thing about having three daughters is I have, like, my own little love affair with each one of them.
Do you watch American Idol together?
Sometimes.
Who's your favorite?
The Scottish lady. Oh no, that's British Idol actually, it's Britain's Got Talent. Um, I don't know. We're not in the heat of it right now, but we'll watch it and decide who is right and how it's wrong they said things and shocked at how the voters texted in and all that stuff. We love it. My daughter and her girlfriend – they kind of live it, so I haven't seen it as much this year.
Ever have an unrequited love experience?
No, my wife loves me. Well, when she's mad at me during the eighteen years we've been together, maybe it was unrequited for a second or two, but she's my love.
You went to the same high school as Jack Black. Anything about this movie make you miss your own high school experience?
Well, the producer and the casting director and I all went to high school together, so in a sense, we were kind of manifesting the dynamic of this movie together. What it means to … look at your life now and look at it then and make peace with it.
I was a total … yeah. I don't know what the right word is, but I hadn't … I felt a little out of place. I felt a little out of place in school.
Could you share a funny story about Chevy?
I'll tell you a funny story about Chevy. Everything he says is funny. It's almost like you've seen so much that you've loved him in, and you've laughed so much with this guy your whole life that he could basically say 'pass the salt' and you're just like 'oh my God, that's the funniest thing I've ever heard!'