PHOTOS
On the Set: All My Children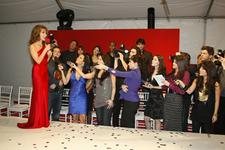 When I got the offer to play a reporter during Fashion Week on All My Children I immediately accepted. How could I not?
So a couple weeks later, there I was in a dressing room ready for my close-up. After catching up with the other real fake reporters, I made my way to hair and makeup. I wanted a fierce TV look— lots of hair and lots of makeup. Well, I got that. My fabulous updo and sweeping eye makeup would make even my scene partner, the great Susan Lucci, jealous! Yes, I got to act in a scene with Susan Lucci.
Article continues below advertisement
Soon, I made my way onto the sound stage where I caught up with Cameron Mathison and Alicia Minshew. I roll with soap stars, you didn't know that? What I didn't roll with is the amount of time that is spent just sitting around and waiting. My call time was at 5 pm and I didn't actually shoot my scene until 9 or 9:30 p.m. Luckily, they fed me dinner.
Post dinner, I stood there, lights in my face, ready for action to be called reciting my lines in my head over and over again. I was trying not to get distracted by a chit chatty Susan Lucci (who knew the woman that plays Erica Kane is so nice in person?).
Action! And there I was, method acting my way into All My Children. It was quite a delightful experience (even if I did forget my line and improvised). But, you'll have to watch it to see if I did well!
Hey ABC, if you ever need me to play myself again, feel free to give me a call! To see me in action, watch All My Children on Monday, Feb. 18.
By Jocelyn Vena