PHOTOS
Sir Michael Caine Wishes For Private Plane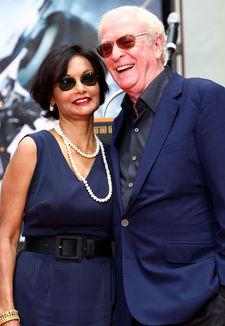 Sir Michael Caine jets in from London with wife Shakira for the premiere of his 1980s nursing home drama Is Anybody There? held Monday at NYC's Cinema 2.
Life as a knight must be grand. He was honored with the title in 2000.
"There are no advantages," the British actor, 76, tells me. "If you were unknown, you'd get tables in restaurants, but I get that anyway. I've lived with the privileges of a knight without actually being one, but when I was made one, I was very happy because it was for me. It wasn't for anybody else."
Article continues below advertisement
Is there anything he doesn't get with his knighthood?
"Most things," he laughs. "You can't get anything. I would like a private plane, but I haven't got one. That's the only thing I'm jealous of of anybody in the world. People who have their own airplanes because you don't have to travel commercial then. I hate traveling on commercial airliners."
Once the couple touched down for the film, it was all business, but Sir Michael made time to take his wife of 36 years to the "monkey park."
"We're completely devoted," he says of their relationship. "I'd do anything for her."
As for the secret to a happy marriage? "Separate bathrooms," he yuks.
Does his wife Shakira, 62, ever get confused with the singer Shakira?
"Shakira reminds me of my wife many, many, many years ago," he says.
Here comes Ed Westwick, whose appearance stuns young Bill Milner, who plays a boy who befriends Michael Caine's character. The Gossip Girl party hopper made a movie in 2007 with Bill called Son of Rambow, and his eyes light up when he hears Ed has arrived.
Article continues below advertisement
"He's a really nice guy," Bill tells me of Ed. "I haven't seen him in quite a long time, so that should be great!"
Here comes Nikki Blonsky. It's hard to believe we once sat beside her during a 2007 screening of The Last Mimzy. Insane what a star she has become!
What's the update on the Hairspray sequel?
"I have no idea!" Nikki tells me. "I think Tracy's gonna be the last one to find out. They'll call me when they need me in rehearsals, I guess."
Where would she like her character to go?
"I hope she gets to make out with Link some more," she laughs.
Ta-dah! Capping off arrivals is the lovely 30 Rock star Katrina Bowden, who hopes Jennifer Aniston returns to the show. "I think we all would love to have her back," Katrina says. "She's really great to work with. Very nice, and down-to-earth. She's great at what she does. I think they could do a lot with a crazy character like that."
Is Anybody There? opens in limited release on April 17.
SEE MORE PHOTOS IN THE VALERIE GALLERY: