PHOTOS
The Other Teen Moms! '16 And Pregnant' Cast Members Who Fell Out Of The Limelight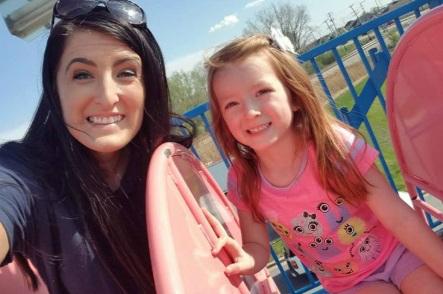 MTV's 16 and Pregnant made stars out of Farrah Abraham, Jenelle Evans, Amber Portwood and other teenage moms who appeared on the show. But what happened to the rest of the cast? While the likes of Farrah, Jenelle, and Amber found their calling as reality television stars, some of the original 16 and Pregnant cast members didn't make the transition into Teen Mom 2 and Teen Mom 3. Some were content being mothers away from the camera while others just weren't asked to join the series that followed 16 and Pregnant. OK! has looked back at the cast members who walked away from the limelight. What became of the original subjects?
Article continues below advertisement
MORE: KAILYN LOWRY SHARES AN ADORABLE VIDEO FROM JAMAICA VACATION
Not everyone on the show wanted to continue on. After all, the original premise of 16 and Pregnant was to observe the cast's journey into motherhood. For some, it simply ended after that journey. It shouldn't be so surprising that some of these young women actually chose to simply be mothers. No cameras, no spin offs, just the joys motherhood. While these cast members chose not to deal with the drama that came with another reality show, the drama of their every day lives didn't stop. Check out what these 13 teen moms have been up to since their days on 16 and Pregnant.
1. Maddy Godsey
Who were they?
Maddy Godsey was known for having gotten pregnant after a one night stand with Cody Jensen. The teen mom was forced to raise little Aubrey Lynn Godsey alone after Cody proved to care very little about being in his daughter's life.
Where are they now?
Aubrey faced single motherhood head on and succeeded. She went on to work as a pharmaceutical tech and moved out of her father's house and into a brand new home for herself and Aubrey.
Article continues below advertisement
2. Valerie Fairman
Who were they?
Valerie Fairman was known for constantly fighting with boyfriend, Matt. The father of their child made it clear that he would only have contact with their child and not her.
Where are they now?
Sadly, Valerie's troubles were too much to handle. She spent time as a prostitute after her episode aired and tragically died of a drug overdose in 2016.
Article continues below advertisement
3. Ashley Salazar
Who were they?
Ashley Salazar was known for making the hard choice to put her baby up for her adoption.
Where are they now?
Ashley was one of the few 16 and Pregnant stars to have stayed with their baby daddy. Fiance, Justin Lane and Ashley welcomed their second child together in 2016 in addition to still being involved in their first child's life.
Article continues below advertisement
4. Nicole Fokos
Who were they?
Nicole Fokos appeared in season two of 16 and Pregnant. Unlike many of the other cast members, Nicole and her then boyfriend, Tyler Keller looked as if they'd stay together to raise their child. They even had the support of Nicole's mother.
Where are they now?
Unfortunately, Nicole's life spiraled for a time after her appearance on the show. Her and Tyler broke off their engagement shortly after he proposed during a reunion special. She had issues with substance abuse and even had custody of her daughter, Brooklyn, taken away and given to Tyler's grandmother. Luckily, Nicole cleaned up and welcomed a second baby girl with new husband, Kenny Navarro in 2016. 
Article continues below advertisement
5. Nikole Paulun
Who were they?
Nikole Paulun's season two episode chronicled her deeply troubled relationship with baby daddy Josh Drummonds. From fights with her mother to cheating during the pregnancy, Josh made his case for worst 16 and Pregnant boyfriend ever! He eventually landed in prison for two years while Nikole raised their son, Lyle Drummonds, with help from her mother.
Where are they now?
Nikole gave birth to her second daughter, Ellie, in 2015. She was forced to file a restraining order on her first baby daddy, Josh, in 2017 after he was arrested yet again.
Article continues below advertisement
6. Summer Rewis
Who were they?
Summer Rewis was just a kid out of Collins, Georgia trying to make it through high school before she became pregnant by her boyfriend, Daniel James "D.J." Rewis. Unlike many of the other cast members, Summer had a decent support system from D.J. and his parents.
Where are they now?
Summer's post 16 and Pregnant life was drama free for the most part. She was even married to D.J. for a while before separating in 2018. The couple has two sons together, Peyton Daniel Rewis and Connor Mace Rewis.
Article continues below advertisement
7. Jordan Ward
Who were they?
Jordan Ward's episode revolved around her relationship with her twin sister, Jessica Ward, after she became pregnant by her boyfriend, Brian Finder. The sisters had planned to break into modeling, but Jordan's pregnancy put a damper on that, much to the chagrin of Jessica.
Where are they now?
Jordan and Brian married in 2011 after she gave birth to Noah James Finder. They had a second child, Arri Monroe Finder, before divorcing in 2016.
Article continues below advertisement
8. Kristina Robinson-Head
Who were they?
Kristina Robinson Head's story was a tragic one. The young mother lost her boyfriend and father of her child, John "Todd" Hight Jr., to a tragic drowning accident during her pregnancy. The stress surrounding the tragedy led to Kristina giving birth to son, Lukas Todd Hight, two months prematurely.
Where are they now?
Kristina persevered through tragedy and eventually married T.J. Head shortly after she had wrapped filming. The couple went on to have two sons together, Tommy Joseph Head and Layton Jax Head.
Article continues below advertisement
9. Ebony Jackson
Who were they?
Ebony Jackson had plans to join the air force with her fiance, Josh Rendon before she became pregnant in 2008. The two had their issues including a paternity test requested by Josh's mother, but the two ultimately married after graduating from high school.
Where are they now?
Things quickly went south for Ebony and Josh as the two were arrested for child endangerment and drug related charges. Their daughter, Joclyn Rendon, was taken into protective care before the couple regained custody. Ebony and Josh eventually had another daughter, Jayda Rendon, before divorcing. Unfortunately, Ebony lost custody of both girls to Josh.
Article continues below advertisement
10. Whitney Purvis
Who were they?
Whitney Purvis faced multiple problems during her time on 16 and Pregnant. From dropping out of high school to financial troubles, Whitney's pregnancy was filled with drama. On top of all that, her mother also revealed her own pregnancy during the filming of the show. Whitney gave birth to her and her boyfriend, Lewis Gosa's son, Weston Gosa Jr. in 2009.
Where are they now?
Trouble followed Whitney after the show. According to reports, both she and Lewis were arrested for multiple offenses including trespassing and stealing a pregnancy test. While they would have another son, River Blake Gosa in 2014, Whitney and Lewis split shortly after.
Article continues below advertisement
11. Megan McConnell
Who were they?
Megan McConnell had the misfortune of having one of the worst 16 and Pregnant dads by her side during her pregnancy. Viewers witnessed as she struggled with her video-game obsessed boyfriend, Nathan Stone.
Where are they now?
Megan gave birth to Blake Ray Stone in 2010. While she did actually marry Nathan in 2011, the two divorced the same year. Megan once again gave birth to another son named, Silas Jude Eubanks, with her boyfriend, Chase Eubanks in 2015.
Article continues below advertisement
12. Kayla Jordan
Who were they?
Kayla Jordan was just a girl from Alabama when she became pregnant by her then boyfriend, J.R. Davis in 2009. Surprisingly, J.R. proposed to Kayla after her pregnancy reveal, with support from both her parents. Their baby, Rylan Jayce Davis was born in 2010. Their engagement did not last, however.
Where are they now?
Kayla followed in the footsteps of Kailyn Lowry and has gone on to have three kids with three different fiances. Luckily, she didn't have to suffer the same criticism as Kailyn.
Article continues below advertisement
13. Lindsey Nicholson
Who were they?
Lindsey Nicholson had the distinction of being the only aspiring cage fighter of the 16 and Pregnant crew. Her pregnancy to Forest Ponce derailed her cage fighting dreams however.
Where are they now?
Lindsey's daughter,  Aniyah Monroe Nicholson, was born in 2011. She then had twins with her new husband, T.J. Nicholson, after undergoing a notable breast augmentation.