PHOTOS
SJP & Matthew Broderick Expecting Twin Girls!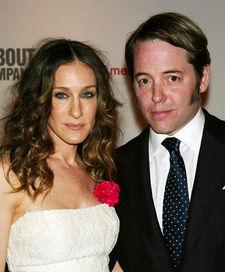 Congratulations to Sarah Jessica Parker and husband Matthew Broderick, who confirmed on Tuesday that, with the aid of a surrogate mother, they are expecting twins this summer!
In a statement released to Entertainment Weekly, a rep for the couple said they are "happily anticipating the birth of their twin daughters later this summer with the generous help of a surrogate. The entire family is overjoyed."
MORE ON:
Sarah Jessica Parker
Article continues below advertisement
SJP, 44, and 47-year-old Matthew have been married since 1997 and are already the proud parents of adorable 6-year-old son James Wilkie.
RECENT PICS OF SJP & MATTHEW:
<a href="http://www.okmagazine.com/pixandvids/gallery/13556/1" target="_blank"><img src="https://d-images.okmagazine.com/img/photos/large/27008.gif" height="100"/></a> <a href="http://www.okmagazine.com/pixandvids/gallery/13556/2" target="_blank"><img src="https://d-images.okmagazine.com/img/photos/large/27007.gif" height="100"/></a> <a href="http://www.okmagazine.com/pixandvids/gallery/13556/3" target="_blank"><img src="https://d-images.okmagazine.com/img/photos/large/27006.gif" height="100"/></a> <a href="http://www.okmagazine.com/pixandvids/gallery/13556/4" target="_blank"><img src="https://d-images.okmagazine.com/img/photos/large/27005.gif" height="100"/></a> <a href="http://www.okmagazine.com/pixandvids/gallery/13556/5" target="_blank"><img src="https://d-images.okmagazine.com/img/photos/large/27004.gif" height="100"/></a>