PHOTOS
Skai Jackson Files For A Restraining Order Against Bhad Bhabie After The Rapper Threatens To Kill Her Amid Social Media Feud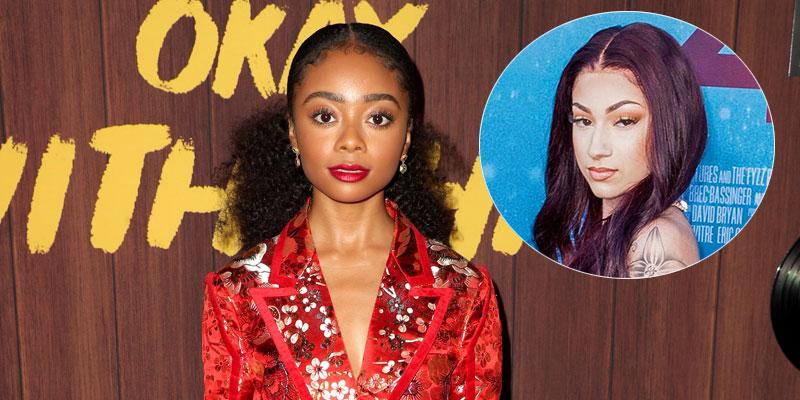 Skai Jackson isn't taking Bhad Bhabie's recent threats lightly. The actress filed for a restraining order in Los Angeles on Thursday, February 27 after the rapper threatened to "kill" her amid their social media feud.
Article continues below advertisement
Skai, 17, was granted the restraining order by a judge. Bhad Bhabie — whose real name is Danielle Bregoli — must now stay at least 100 yards away from Skai, her home, and her workplace. She's also not allowed to contact her in any way, according to reports.
As OK! readers know, Bhad Bhabie came for Skai on Instagram Live on Monday, February 24. She accused the Disney alum of posting from a fake account and blocking her on social media. "I wanna know why every time I'm seen with a dude, b***hes wanna get all up on they page?" Bhad Bhabie began.
Article continues below advertisement
She continued, "The b***h is a huge fan! You're a whole fan! She's moving sneaky bro! Don't go post about me on your fake page, b***h. If you got something to say about me, post it on your page. Show me you f**king bold! The b***h got me blocked on Instagram, blocked on Twitter, all type of s**t. Like b***h, grow up!"
Bhad Bhabie was convinced that Skai was "liking" posts about men that she was associated with, including her ex NBA Youngboy. "That s**t don't sit right with me. That s**t don't sit right with me at all! I don't like that s**t! You don't even know if I'm talking to dude or not. You just seen us on The Shade Room so now you wanna go run and like his pictures. B***h I'll kill you!" she fumed while directing her anger at Skai.
Article continues below advertisement
Skai took the high road. "No time 4 negatives!" she tweeted. However, her mother Kiya Cole hit back at Bhad Bhabie on Instagram. "Let me tell you something little girl! I'm definitely not the one to be played with! Don't come on my damn page with your trashy negativity! How about you just put your address or phone number in my DM and I will gladly have this conversation with your mother. I'm NOT having it! Take this s**t somewhere else and leave my damn daughter alone," Kiya wrote.
Kiya getting involved prompted Bhad Bhabie's mom Barbara Bregoli to jump in. "Oh listen to you preach. Tell your daughter to stop speaking on mine and you think you are calling my daughter ratchet. Remember I come from New York too," Barbara warned Kiya.
Article continues below advertisement
What do you think of Skai filing for a restraining order? Sound off in the comments below!