PHOTOS
Snoop Dogg Apologizes To Gayle King After Blasting Her For Bringing Up Kobe Bryant Rape Allegations In Recent Interview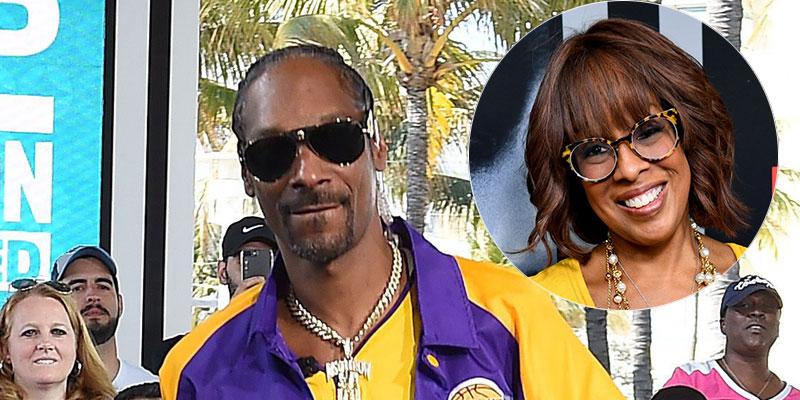 Snoop Dogg issued a public apology to Gayle King after blasting her for bringing up Kobe Bryant's rape allegations in a recent CBS This Morning interview with WNBA star Lisa Leslie. The rapper revealed that he had a change of heart after a discussion with his mother, and so he decided that it would be the right thing to do to acknowledge his poor behavior.
Article continues below advertisement
"Top of the morning! Big Snoop Dogg coming at you live and direct with a message. Two wrongs don't make no right. When you're wrong, you gotta fix it. So with that being said: Gayle King, I publicly tore you down by coming at you in a derogatory manner based off emotions ... me being angry at questions that you asked," Snoop said in an Instagram video.
He continued, "Umm, overreacted. Should have handled it way different than that. I was raised way better than that. So I would like to apologize to you publicly for the language that I used and calling you out of your name and just being disrespectful."
Article continues below advertisement
Snoop proceeded to explain why he had such a strong reaction to Gayle's line of questioning, and insisted that he was simply feeling defensive over Kobe. "I didn't mean for it to be like that. I was just expressing myself for a friend that wasn't here to defend himself. A lot of people look up to me and they love me and they appreciate me, so I want to let them know that anytime you mess up, it's okay to fix it, it's okay to man up and say that you're wrong. I apologize. Hopefully we can sit down and talk privately. Have a good day," he concluded.
"Proud of you for doing this," Lena Waithe wrote in the comments section of Snoop's post. "I appreciated the raw honesty with your initial reaction. I respect the hell out of you for taking a min to review your words and actions and clear up any negativity publicly. Absolutely incredible," another fan added. "You didn't have to do this but it speaks to the man that you are," a third person noted.
Article continues below advertisement
Kobe was accused of sexually assaulting a Colorado hotel employee in 2003. The charges were later dropped when the woman declined to cooperate with prosecutors, and she and Kobe eventually settled outside of court. Kobe maintained that their sexual encounter was consensual, but he acknowledged that his accuser didn't feel it was in a public apology.
Gayle received significant backlash and even death threats after she questioned Lisa about the rape allegations against Kobe in the wake of his death. "It's been said that his legacy is complicated because of a sexual assault charge that was dismissed in 2003, 2004. Is it complicated for you, as a woman, as a WNBA player?" Gayle asked Lisa. "It's not complicated for me at all. I just never see, have ever seen him being the kind of person that would be ... do something to violate a woman or be aggressive in that way. That's just not the person that I know," Lisa replied.
Article continues below advertisement
After the interview aired, Snoop took to Instagram to slam Gayle. "Hey Gayle. F**k you. Kobe was our superhero. How dare you try to tarnish my f**kin' homeboy's reputation," he said, before warning her to "back off b***h before we come get you."