PHOTOS
Sophia Bush: My Dogs Are Like My Kids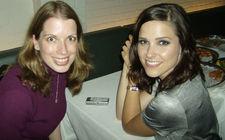 Sophia Bush gushes about her new dog, Penny, during the reception for her coming-of-age drama The Narrows held at NYC's Bottino. Noshing on appetizers including grilled shrimp with garlic, grapes and cheese and a turkey wrap, the One Tree Hill beauty, 26, admits she recently purchased chew toys for her pups Patch, and new addition Penny.
"She's another rescue pitbull," Sophia tells me in her signature rasp. "She was a few days away from being euthanized at the pound. She's amazing. She's the first dog I've come across in all this time that I've been thinking about getting a dog so that Patch has a companion that really reminds me of him. They have really kindred spirits. She's a puppy, but there's a lot of life in her eyes. She's a very old dog. I know that might sound strange to call a dog an old soul, but she is. She's really special, and they're just in love with each other, so it's a good match."
Article continues below advertisement
Patch and Penny are lucky pups.
"My dogs are absolutely spoiled. They come to work with me every day. We're never apart -- ever. I take them everywhere I go. We hike, and we go to the beach. I pile them in the bed. I think, with animals, they encourage a pure showering of love, and I really like that."
Sophia, who divorced One Tree Hill co-star Chad Michael Murray in 2006, finds that her puppies are preparing her for motherhood.
MORE ON:
Red Carpet Confidential
"Having a pet is a big responsibility. It's like being a parent. Granted, they're not as intense obviously as children, they're very similar. My animals are like my kids for me, and your life -- your schedule -- revolves around what they need."
She adds, "When I travel, I always have to take the dogs into consideration. 'Where are they going to stay? How are they going to fly? Where are we going to go? Are we going to fly or are we going to drive?' It's a very big commitment, but I think it's incredibly rewarding."
Sophia's protective side comes out when her animals are involved.
"It's an interesting thing for me because I'm a very laidback chill person but if someone ever hurt my dogs, it would be over."
Rescue a pet by visiting your local shelter. That's where I got my girls Mysty and Spense. Need motivation? Hit petfinder.com. Save a life and make a new BFF.
The Narrows is in theaters now.
SEE MORE PHOTOS IN THE VALERIE GALLERY: