PHOTOS
Spencer Pratt for President?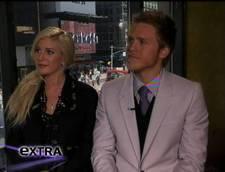 Though they might have finally exited the Costa Rican jungle for good, the inexplicable media juggernaut that is Spencer Pratt and wife Heidi Montag continues on. And if the loud-mouth dude from Southern California gets his way, the Speidi Express will someday come to an end at the White House.
In an interview to air tonight on Extra, S.Pratt explains that he'll only be content, "When I'm in the White House as the President of the United States, this beautiful amazing, country... Then I'll be like, 'Okay, I've done what I've dreamt my whole life to be.' That was the game plan to become the most famous person on the planet, so when I'm campaigning, people will know who I am. No one knew who Obama was and now he's the President. Just imagine what I'm capable of… I plan to be the President of the United States in the next 20 years."
Article continues below advertisement
The outspoken one also had words for The Today Show's Al Roker, who pulled no punches when he interviewed the pair earlier on Monday.
"He's a weatherman at the end of the day," says Spencer. "Weathermen just don't get on my radar... The guy was a bully... We just woke up and all of a sudden this guy started screaming at us. We didn't even know what the Today Show was. I thought it was some guy named Matt."
Truly Presidential material, don't you think?