PHOTOS
Stars Line Up at CMT Awards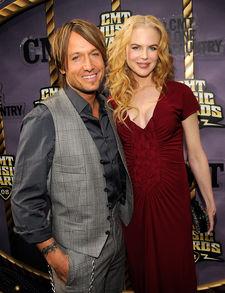 Nicole Kidman towers over hubby Keith Urban as they swan into the CMT Awards, which take place at Belmont University in Nashville. Her baby bump is minimal, and she waves as fans shriek. makes her way in at 6:41, but hostess-with-the-mostess Miley Cyrus causes the biggest stir when she walks the purple carpet in a print dress at 6:24.
Aside from , whose teeth are chattering, celebs donning minimal gowns refrain from making their shivers known on this unseasonably cold evening. "Your hands are warm," the American Idol judge tells me after a handshake.
Article continues below advertisement
Whoa! Naomi Judd actually stands in line to talk to me when I am in the midst of speaking with AI's Bucky Covington. Insanity! I do adore the Judds – and Naomi is brilliant. I smile on the inside when I see Alan Jackson and his wife about to do the same. I mean, it's Alan Jackson! ("Way down yonder on the Chattahoochee…")
OMG, Crystal Gayle is here, too. I loved her when I was a little, little, little kid. She had that amazing floor-length-long hair, and still does. "I love OK!" she says. Who is her favorite young artist? "I think is a great vocalist," she tells me.
Sara Evans struts up with fiancé Jay Baker. She's a favorite, too. (Remember Born To Fly? Good stuff!) Little Big Town's Kimberly Roads confesses she's a lil' nervous about performing. adores her "sweet, feminine" dress.
Now Brad Paisley and his wife, and then Faith Hill and Tim McGraw slide through. Here's LeAnn with hubby Dean Sheremet in tow.
Taylor Swift greets me with "Hey! How are you?" and reveals the inspiration for her song Teardrops on My Guitar. "It's about a guy named Drew who I went to school with. I wrote it in ninth grade. It was a guy I really liked and he had no idea. But I think he knows now." Well, probably.
Article continues below advertisement
Miranda Lambert tells me boyfriend Blake Shelton helped her pick out her dress, but he didn't take great care in finding his duds. "Want me to be honest with you?" he says. "I've had these jeans on now – I wore them in Toronto, Canada on Friday, I wore them in Michigan on Saturday, I wore them to Bass Pro Shops on Sunday, and I decided I'm on such a roll that they were ready for this CMT Awards show. These are my good old Wrangler blue jeans. They fit better the longer you wear them."
Meanwhile, Kristian Kane fractured his ankle in three places while filming a movie in Lake Tahoe. "It was hard getting these jeans over this boot, but I sacrificed comfort for style," he tells me.
AI's waves hello, and the boys and girl of give me a wave and "hey, how you doing?" also says "hi."
Wow, country music has a lot of cute guys. I count Chuck Wicks, Jason Aldean, Jake Owen and Lady Antebellum's Charles Kelley -- Josh's brother -- among them. (There are more, too, but off the top of my head.)
Article continues below advertisement
Laura Bell Bundy, who starred in Broadway's Legally Blonde, has gone country with her album Longing For A Place Already Gone. "I call it y'all-ternative," she laughs. "I'm very influenced by Loretta Lynn's albums from long ago and her recent album she did with Jack White. She's a beautiful songwriter, she's very honest and real. It's actually her birthday today."
I bet she's excited to meet her sister Crystal Gayle, too.
Check out the OK! on stands this week for more coverage of the CMT Awards. "Katie Fights Back: Don't Mess With My Family" is the cover line.