PHOTOS
Stars Mix and Mingle For Conde Nast Traveler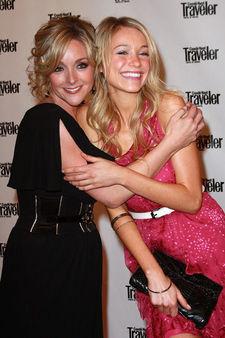 Stars step out for Conde Nast Traveler Readers' Choice Awards, which take place at the New York Public Library.
As tunes including Justin Timberlake's Lovestoned and Madonna's Holiday spin, Jane Krakowski tells me she hopes Oprah's appearance on 30 Rock cements the show's place on the talk show icon's Favorite Things List. "We hope to get the Oprah Seal of Approval," Jane tells me. "I don't know where we could go from there!"
Article continues below advertisement
Ouch, what happened to her 30 Rock costar Katrina Bowden's eye? The white part is – eughh – blood red.
"I was eating granola actually, and a piece of it went down the wrong tube," Kat admits. "You know when you get that coughing attack? I busted a blood vessel in my eye a few days ago."
That said, "I love trail mix, granola, nuts and dried fruit."
Surprise, surprise, it's Aubrey O'Day! She greets me with a fervent wave. "She's my homegirl," Aubrey tells her rep. I tell her my whole office thinks she's going to be a big star. "I hope that I'm going to be a big star," Aubrey laughs. "I hope that your office is right."
Gossip Girl dad Matthew Settle reveals he's going to be a daddy on March 10 – that's my birthday! And Carrie Underwood and Sharon Stone's, too. What most excites him about fatherhood? "Trying to fix all the problems in my life," he tells me. "Those are the classic things that parents do wrong! Seeing if I can just be supportive. Applying the wisdom I'm learning on Gossip Girl."
Real Housewives of New York star Bethenny Frankel admits she's dating "manyone" now. How does she juggle multiple men? "Don't get in textual relationships," she tells me. "No textual relationships. You're always left holding the bag. It's like when do I text back? It's lack of communication. You have to let them know you're not into textual relationships right away."
Article continues below advertisement
Mario Cantone, who doesn't have scoop on the Sex and the City sequel, loves to vacation in Ravello, Italy. "It's beautiful," he says. His tastes weren't always so chi-chi. "My first car was a horrible, cinnamon colored Malibu. 1970. It was horrifying. My mother bought it. I just used it all the time."
Christy Carlson Romano remembers me from Equus opening night. Whoa! Christy's starring in Avenue Q now, which is next to All My Sons, featuring the one, the only Katie Holmes. Any tips? Sleep! "She's exhausted," Christy says of her streetside encounter with the star. "She looked like she was tired, but she also looked like she was so excited and so set to be doing this."
Although Christy thinks Daniel did a "great job" in Equus, she'd like to see Zac Efron give it a go. "I think Zac could totally do it. Broadway's hard, but it's just as hard as doing a 12-hour workday that doesn't stop because you're a celebrity and your life is a 24-hour show. I think Zac Efron has been working his butt off with High School Musical, and he's been performing all over the country. They're good kids, those guys."