PHOTOS
Stars Remember Best Holiday Gifts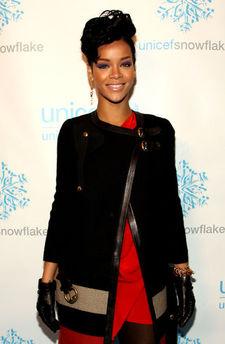 With Christmas in full swing, everyone loves to show off their presents. So, what are the best gifts the stars have received? (Psst. They aren't what you'd expect!)
"It probably was my bag," Rihanna, who is dating Chris Brown, tells me. "I had a pink bag. The flap was a dog face with hair and stuff, but that always sticks out in my head. Maybe that's the best one."
Ne-Yo says, "An uncle of mine gave me a box with nothing in it one year. He really had me thinking for a good six hours that I didn't get anything, and then later on that night, we went over to his house and he had a bicycle for me. He let me cry and everything. 'Sorry – you shouldn't have been bad this year.' All right."
Article continues below advertisement
Martina McBride says, "I got a puppy one year named Jingle Bells. I don't think you can beat getting a puppy for Christmas when you're six years old. That was my best."
Reba McEntire tells me, "My little sister gave me a pair of my basketball shoes that I wore in high school that she found in our old closet at home. She wrapped them up and gave them to me, and I sat there and cried."
Julianne Hough's boyfriend Chuck Wicks says, "I got a nice letter from my dad one time. He described our relationship. Me and my dad are good friends, and anytime you get a letter from your mom or dad that says 'hey, I love you and you're my son,' it was really in-detail things that we experienced growing up. Playing baseball with him in the backyard and football and sports. He's such a big supporter of what I'm doing – and so is my mom – but I got a letter from him one Christmas, and I'll never forget that."
Cody Linley says, "Best Christmas gift was an Emmitt Smith jersey from 1997 because I wore it every single day after that. It was the first time I ever went to a Dallas Cowboys game, and my stepbrother Scott – who is 18 like me – got a Deion Sanders jersey that was just like it. I just have a lot of close memories and of my stepdad Brian. I actually still have that jersey, and the sad thing is, it still fits. It was so big on me at the time – it was."
Article continues below advertisement
"Right after Idol, Ford gave me my mustang, which I got semilate, but it was for Christmas," Diana DeGarmo tells me. "I have a black-and-pink mustang, and she's my baby. I haven't even had her hit 10,000 miles with her, so she's actually here with me in Nashville. I towed her up from Atlanta. That was officially the best Christmas gift ever-ever."
Why was it so important?
"Well, as a kid – my mom and I never drove new cars," Diana continues. "We always drove beaters and things that had four hundred thousand miles on them and would fall apart. That was my very first new car I ever got to sit in and drive. At the time, to be 17 with a brand-new car, it was ridiculous."
Jake Owen says, "It was a journal because it was one of the most thoughtful things I was ever given. Christmas seems to be – everybody tries to outdo and get big gifts. And I think the person that gave me the journal, it meant a lot, and me being a writer, they knew that. It was something that was really special. I was like 'wow, this is something I can use every single day.' And it's all about giving."
Article continues below advertisement
Lady Antebellum's Hillary Scott tells me, "When I was little and I got a Barbie car for Christmas, that was my favorite thing ever. I used the fire out of it. I drove it till it wouldn't go anymore. That's probably my most memorable growing up. Lately, it's just been clothes and a pair of Uggs."
Little Big Town's Karen Fairchild says the best Christmas gift she's ever received is her husband. "He's the best gift in my life," she tells me.
Darius Rucker tells me, "When I was nine or ten, I got my first acoustic guitar. We didn't have a lot of money growing up, and I just remember thinking how great it was that my mom had gotten me a guitar. That was pretty big."
Jason Aldean seconds that one. "Best Christmas gift I ever received was probably a guitar," he says. "I got a guitar when I was about 13 years old, and that started this whole craziness of me pursuing this career in music. I definitely think that that was probably the best gift I ever got, and definitely the one that helped me get to this point."
Article continues below advertisement
Brody Jenner shares his biggest holiday blunder.
"Maybe not appreciating a gift when I should have when I was really little, maybe that was embarrassing. But I feel like Christmas is a time to be yourself no matter what happens. Your family and you – there's nothing to be embarrassed about."
Perhaps he received a not-so-hot gift? Kelsey Grammer once gave his wife Camille 18 garbage cans – one for each room in their new home. "It was a special, extra-thoughtful gift. Practical, and also very artsy." Camille adds, "They were attractive." Kelsey says, "Some were, some weren't."
Happy holidays, everyone!