PHOTOS
Stars Share New Year's Resolutions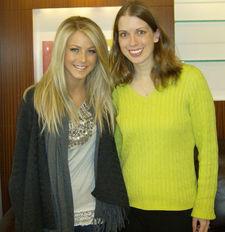 A New Year is time for a new you, and stars are revamping their outlooks. What are their resolutions?
Julianne Hough says, "Keeping my skin fresh and not tanning so much. I won't have to so much when I take the season off from Dancing With The Stars, so I can keep my face fresh."
Emma Roberts is practical. "Probably just to eat healthier and get more sleep," she tells me. "I have a problem where if I start thinking about something, I'm up all night just thinking and can't go to sleep."
Article continues below advertisement
"I'm always 15 minutes late, so I'm going to try and wake up 15 minutes earlier," Natasha Bedingfield says.
Gabrielle Union is going to stop obsessing. "I think I worry too much, and put too much emphasis on 'Oh my God, she's an eight, or oh no, she's a double-zero.' You know what, do your thing. If you look like one of the 90210 girls, then God bless you. And if you are a 12, God forbid – that's illegal in the county of Los Angeles – then go with that. Do you and keep it moving."
Gossip Girl's Lydia Hearst has her list ready. "Honestly, to remain happy and healthy and maintain good friendships and be able to be back in the City more and do more charity work with God's Love We Deliver," she tells me. "I work in the kitchen."
Jesse McCartney says, "I always procrastinate and put things off to the last second. Maybe that should be my resolution. Stop procrastinating."
Jake T. Austin is under the parental influence. "My mom really wants me to try not to argue with my sister," the Wizards of Waverly Place star, who appears in January's Hotel For Dogs, tells me. "I don't know how long that's going to last, but I'll try as hard as I can."
Article continues below advertisement
Darius Rucker is also thinking family. "I'm going to make the same one I make every year, that I'm going to get in much better shape and I'm going to start breaking that around January 2. I think next year I'm going to try to make a resolution to stay home a little more. I'm going to try and see the family more next year."
Jake Owen seconds that notion. "I think it's going to be to call home more just because I think everybody should do that. Time flies, and I seem to sometimes go a week or two without talking to my mom and dad. I want to make sure that I keep up with them."
Lena Olin, who appears in The Reader with Kate Winslet, doesn't think big just once a year. "I start every day with a resolution. I try to make the most of every day I wake up, so New Year's – I start out fresh every day. I have a lot of ambition in my life. Personal. To make the most of every day."
"We're all going to try and sit back with our families and soak this up and reflect," Lady Antebellum's Charles Kelley tells me. "Be thankful."
Article continues below advertisement
Lady's Hillary Scott adds, "Keep dreaming big, too. I think always if you put it out there and you say it, it can happen. We just try to stay optimistic and make goals and I think this dreaming big."
The Dish host Danielle Fishel uses a slogan for each year. "I tend to not make resolutions because I think you tend to set yourself up for failure, but what I do is I make a statement about whatever I want this year to be for me. Last year, my statement was 'no fear' so anything that scared me – such as going back to school – it scared me, and I did it anyway. This year I'm not exactly sure what my positive affirmation is going to be, but I think it's going to be career-based."
Some are not so serious.
"Always wear socks with boots," Ashanti laughs.
And some are opting out. "I don't make resolutions because I'm not good at keeping promises," Damien Fahey tells me.
Be sure to make the most of your 2009.