PHOTOS
Cat Fight! Stassi Schroeder & Kristen Doute Bully Lala Kent In MAJOR Twitter Feud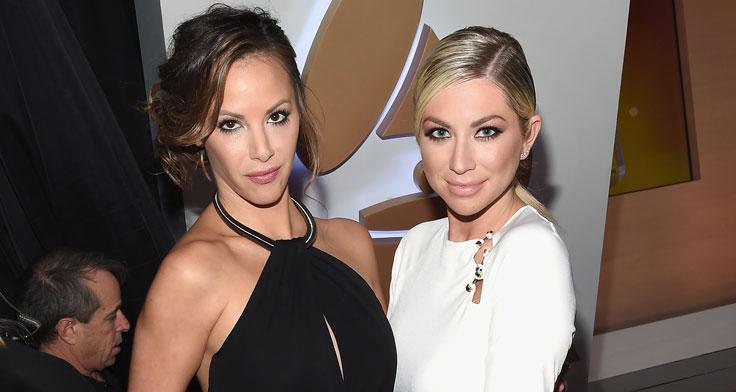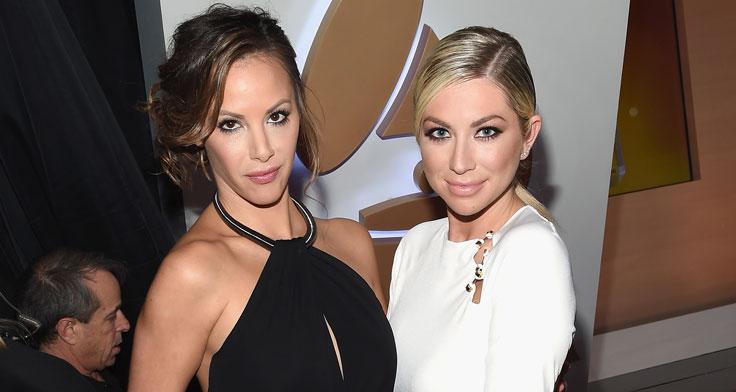 Lala Kent quit Vanderpump Rules after only two seasons, and for good reason! The reality star was constantly bullied by the cast, with Stassi Schroeder and Kristen Doute as the ringleaders. And now, just months after her exit announcement, the trio are entangled in a bitter Twitter feud.
Article continues below advertisement
Much of the drama last season surrounded Lala's alleged boyfriend, whom anyone has yet to meet as she keeps him extremely private (rumor has it he's actually married to another woman), as well as the fact that she had her team draft up a non-disclosure agreement. Lala's catty castmates of course viewed her privacy as her believing she's "better than them."
Lala told PageSix that her publicist, attorney, and manager drafted and NDA to prevent people from filming her without consent. "I can't believe it was made into such a big deal," she scoffed. "I can't believe the rest of the cast does not have this."
Article continues below advertisement
But just because Lala's split from Pump Rules, doesn't mean she's cut ties with SUR. Kent was having a business dinner meeting at the Hollywood hot spot over the weekend when Kristen decided to pick on Lala, shouting at the star, "This is not your show, get the f*ck off my show, you're a stupid whore." Thus, sprung a Twitter feud.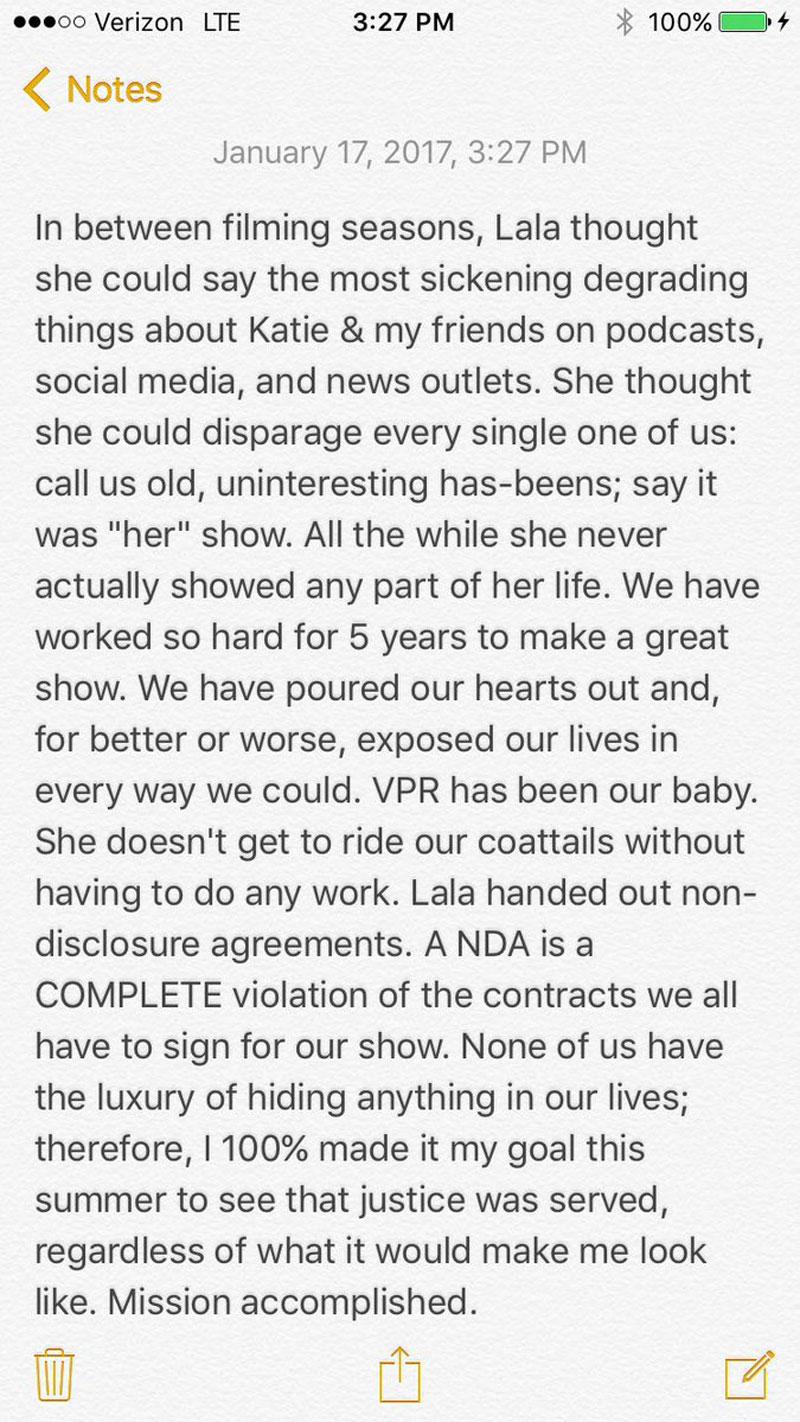 In attempt to stand up for her BFF Kristen, Stassi took to Twitter to justify the cast's mistreatment of Lala, explaining that it was actually Kent who was the culprit of bullying.
Article continues below advertisement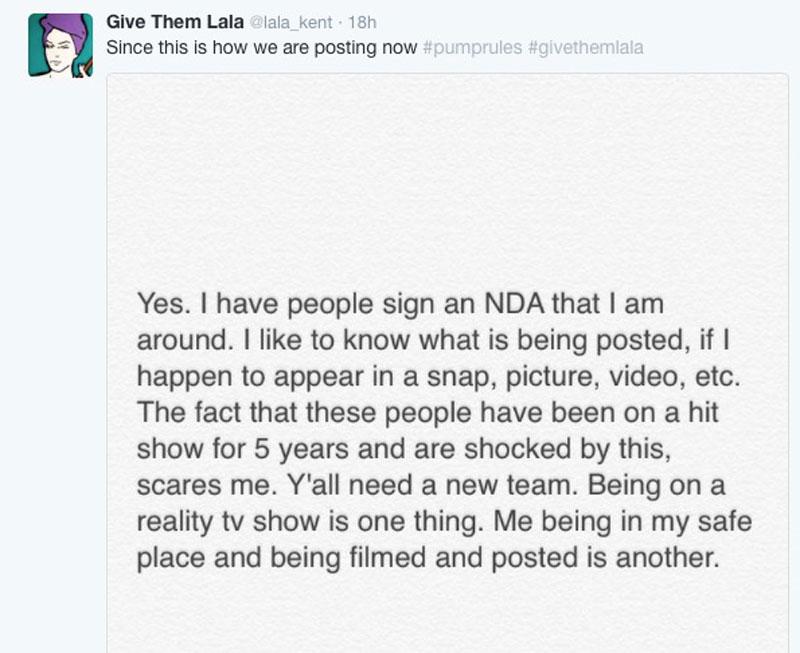 In response, Lala again made clear her reasoning behind the NDA.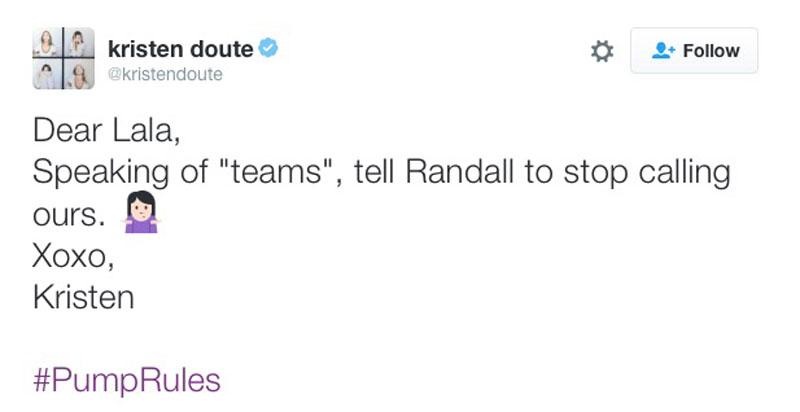 But then things got real ugly when Kristen clapped back with a catty comment and proceeded to reveal the first name of Lala's beau. Although it has yet to be confirmed, rumor has it that Kent's BF is Randall Emmet, a 45-year-old movie producer who is currently married to actress Ambyr Childers.
Article continues below advertisement
Kent then shared a post claiming Katie Maloney's husband Tom Schwartz was a "soft" for calling her nothing more than a "b***h" after everything she's said about Maloney. Schroeder of course then took to Twitter to defend her friend's honor."When you're desperate & not captivating enough on your own," she wrote in the caption of a screenshot of Kent's post.

Lala ended the confusing conflict in a Tweet to Stassi questioning why she talked about her the whole season if, indeed, she's " not captivating enough on her own," as Schroeder insists.
Whose side are you on an why? Let us know your thoughts in the comments section below!