PHOTOS
Taylor Dayne Talks Surrogacy, Singlehood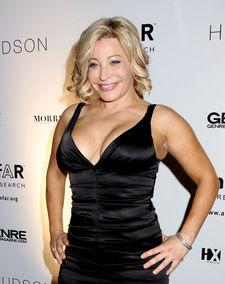 Taylor Dayne had a major influence on pop culture when she hit the big time in 1987 with a string of hits that included Tell It To My Heart, Prove Your Love, I'll Always Love You, Don't Rush Me, With Every Beat of My Heart, Love Will Lead You Back and I'll Be Your Shelter.
By 1993, the name Taylor hit its peak in popularity of baby names.
"You wonder where they generated from, right?" she yuks. "It was a very uncommon name in 1987, that's for sure, but it's a compliment."
Article continues below advertisement
Perhaps she even inspired the name of country's latest sensation, Taylor Swift, who was born in 1989. She laughs off the suggestion. "I would say that her mother was a fan."
Even though Taylor – who was born Leslie Wunderman – has had a remarkable career, she confesses her proudest moment was the surrogate birth of her twins Astaria and Levi, 6.
"I went for it, and I did it as a single mom," the star of Gone Country, which airs Saturdays on CMT, tells me. "I'm very proud of this achievement, and I'm very proud they chose me and I'm their mom."
In this interview, Taylor, 46, opens up about her fertility choice and finding the right man.
Tell me about your surrogacy experience, and why you chose to take this route to conceive.
I did it quite differently than a lot of people. I had a surrogate carry it, and it was my egg. I went for one, and I got two. This is in 2001 right before 9/11 when she was pregnant with the twins, and I was on Broadway. She called me up and they told me.
Article continues below advertisement
I'm very proud of the achievement.
I didn't want to lose the window of opportunity. I'd been through enough relationships where nothing stuck, and somebody mentioned a surrogate when I was thinking adoption.
I said 'a surrogate? What is that?' and they go 'rent a womb.' I'm like 'rent a womb?' And they're like 'it's yours, they look like you.' It was mind-blowing at the time. This was in the year 2000.
Here in L.A. it was legal, but in New York it wasn't. I was in New York at the time, and I went back and forth, and then I started doing Broadway. I found an agency in Los Angeles, and it was a real process.
Who is the father? Is he involved in their lives?
Laughs The father will remain a mystery, but he is a dear friend. They know who he is, but as an involved parent, he doesn't live here or near, so he's not involved in that respect.
Article continues below advertisement
I imagine as a single mom, you go on dates. How does being a mom influence the men you choose?
Yes, I do. That's part of the day-to-day challenge. I'm still Taylor Dayne, I'm still me, I'm still a kid in a candy store, and I think you have to take care of the children that are on board. Sometimes you meet quality people and sometimes you don't. Sometimes you come up short. Interesting, interesting times.
Do you have someone special now?
I'm currently dating. Let's just put it that way. That's basically where I am.
What qualities do you look for?
I wish I could say I have a specific thing like the tall, dark and handsome. But that's not true. I just think a man's qualities will shine through rather immediately for me.
I like smooth operators who have a sense of humor, certainly a real sense of themselves, a man who knows who they are. I think it's important that they admire women and like the challenges opposed to saying they like the challenge and at the end of the day, they run away from the challenge of a woman that is intelligent, that can actually speak with them.
Article continues below advertisement
Somebody I talked to the other day who was quite beautiful, actually, it was interesting to hear her perspective. She said 'listen, I don't want to be their trophy.' And she's clear about that. She says 'I'm looking for the heart. I'm shooting for the heart.' I know what that means. A lot of people prefer to be the trophy. You vacillate. You still want to maintain your beauty and your grace, you know, but at the same time to be in a relationship in very difficult. There's a lot of compromise. I'm learning.
I'm not necessarily looking for man who has such-and-such amount of money in their bank and this, that and stuff. A real connection is always key and chemistry and essence has to happen.
What are your kids into these days?
My children are pretty divine. They're young. They're blessings, and they always are. They're precocious, alive, fantastic, thoughtful and every day they're bringing home something new and different. They're into hiphop, dance, skateboarding and dance.
Article continues below advertisement
What are your hopes for them?
My biggest hope for them is to make sure they are happy, content, peaceful and satisfied and successful people in this world. Give back, and learn how to live fulfilling lives. Feel fulfilled. I like knowing that in their hearts they feel safe, and yet they challenge themselves. That's what I hope for.
Would you encourage them to go into showbiz?
I would follow their lead because for me, by this time in my life, at age 6, my destiny was mapped out for me. I was doing solos in school already, and I knew. There's inner dialogue that you have with yourself. I had my destiny, I knew what I wanted. You have to watch, and so if they desire it – and they show interest in it – I'm talking a real interest – sure, I would encourage it.
What advice do you have for Rebecca Romijn and Jerry O'Connell, who also have twins?
Oh, Rebecca and Jerry, they're going to be just fine. They're going to have a good old time. There's a lot of love over there. Good nanny, little sleep and they have each other, so it's a beautiful thing.
Gone Country airs Saturdays at 8/7c on CMT.