PHOTOS
Ali In Danger! 'Teen Mom 2' Fans BLAST Leah Messer For NOT Making Handicapped Daughter Wear A Helmet Despite Doctor's Orders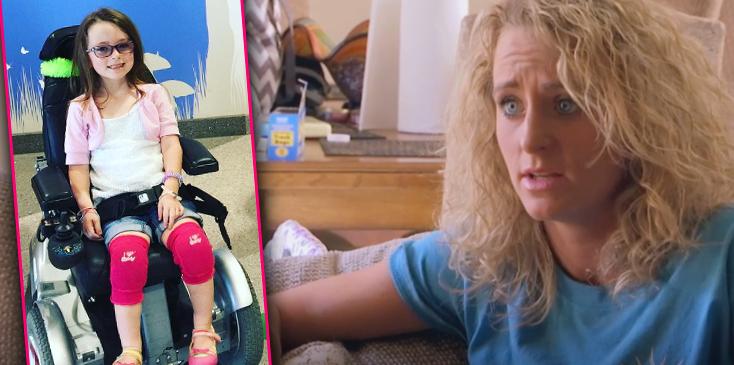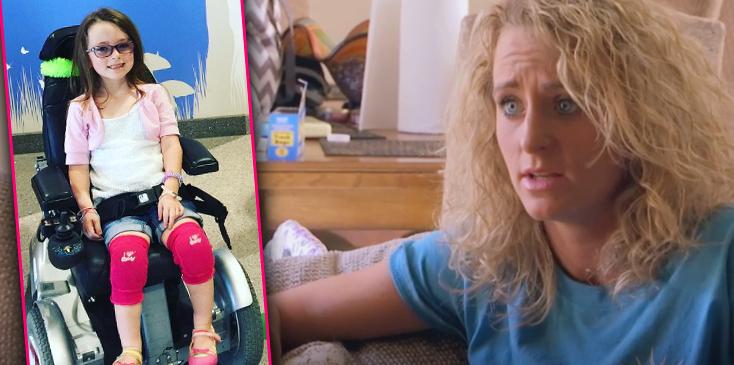 Fans are concerned! During last night's episode of Teen Mom 2, Leah Messer was slammed by fans after footage of her daughter with ex Corey Simms showed her playing outside without a helmet!
Article continues below advertisement
In a recent episode, Ali's doctor, Dr. Tsou, told Leah and Corey, "I heard that Ali is falling 4 or 5 times a day. She probably should wear a helmet whenever she is not using her power wheelchair."
During the special episode on Wednesday night, Leah's three daughters were playing outside on a slip and slide and Ali was not wearing her helmet or using her power wheelchair. "Do you want to wear your helmet," Leah asked her in the scene, to which the 7-year-old replied "no." The mother-of-three told her, "If you start falling, you're going to have to put it on."
Article continues below advertisement
While the girls continued to play, Leah told her brother, "I asked her if she wanted to put her helmet on, and she said no. It embarrasses her, she wants to feel like the other two."
Fans were quick to slam Leah for allowing Ali to continue to play without her helmet. "Leah should not be ASKING her daughter if she wants to wear her helmet! She needs to make her for her own safety," a viewer wrote.
Article continues below advertisement
Another user tweeted, "Leah, you need to make her wear the helmet. Be safe and not sorry girl."
Another Twitter user expressed her sympathy for Ali saying, "she probably sees her sisters and wants to do the same...poor baby...but she's so strong!"
Article continues below advertisement
"Dr. Tsou probably watches Teen Mom 2 and cringes at the fact that Leah and especially Corey, don't take his professional advice seriously," another Twitter user wrote. "Ali needs help!"
Do you think Ali should have worn her helmet in the episode? Let us know your thoughts in the comments section!