PHOTOS
Chelsea Houska Receives Support From Maci Bookout On The Reunion Stage Over Baby Daddy Drug Drama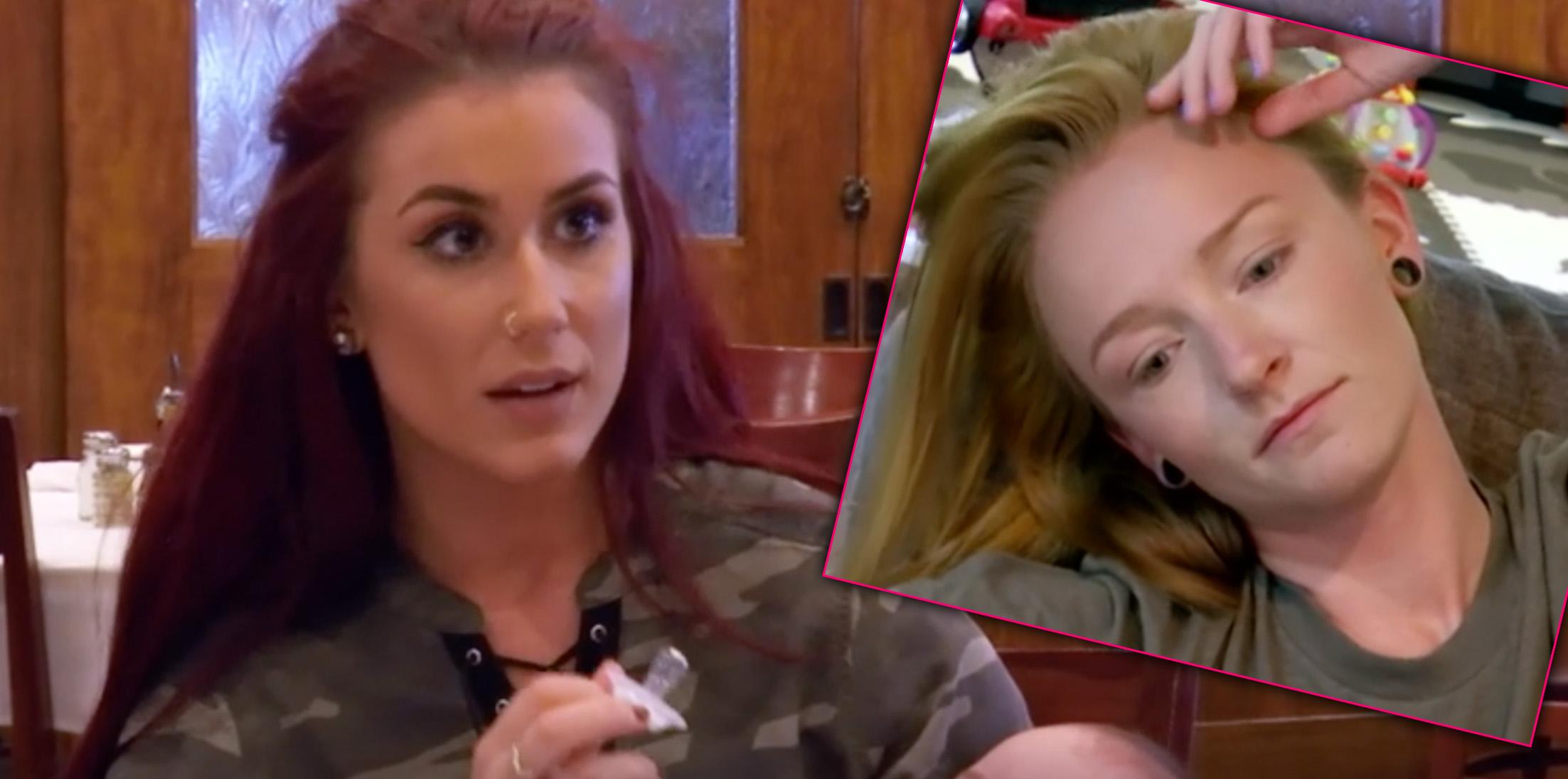 The Teen Mom 2 reunion was filmed this past weekend in Los Angeles which means one thing...baby daddy drama! Chelsea Houska took the stage to discuss her on-going situation with her daughter, Aubree's father, Adam Lind. Luckily, she wasn't alone! According to RadarOnline.com, Teen Mom OG star, Maci Bookout, joined Chelsea on stage to also discuss her similar situation with her baby daddy, Ryan Edwards.
Article continues below advertisement
During Chelsea's segment, she discussed her marriage to husband Cole DeBoer and their son Watson, who they welcomed in January. She also talked about changing Aubree's last name, which has been a topic on the reality show. "She admitted that she kind of asked Aubree about if she wanted to because she's always wanted to hyphenate it to Lind-Houska," an eyewitness exclusively told Radar. "Aubree wants to change her name to Lind-DeBoer."
Chelsea also discuss her situation with Adam. As previously reported, Adam tested positive for meth during a court-ordered drug test last year. "Dr. Drew Pinsky brought up Adam's drug use and she said she used to get texts that people would see him out, but that she doesn't get them anymore because when you're on drugs you kind of are a recluse," the insider claimed.
Article continues below advertisement
Maci took the stage with Chelsea to "talk about having a baby daddy who is on drugs," which was shown on this past season of Teen Mom OG. As MTV viewers know, Ryan was caught on camera falling asleep at the wheel while driving to his wedding high on Xanax.
"Maci says she doesn't know what's up with Ryan anymore because they don't talk," the insider said. "Her relationship with his parents Jen and Larry isn't the same because they feel betrayed by her outing Ryan's drug use."
Article continues below advertisement
Maci was open about Ryan's drug use on the show and in one scene was seen seeking help with how to confront her son's father over his issues. At last year's reunion, Ryan's wife Mackenzie Standifer fired at her for discussing his addiction issues on camera.
As seen in a bonus clip, Maci helped Chelsea deal with having baby daddy difficulties involving drugs."I've actually been wanting to reach out because I've been following the stuff online about Ryan going to rehab," Chelsea texted Maci as seen in the video. "I just thought it was crazy because that's exactly what I'm going through."
Are you excited to watch the reunion special? Let us know in the comments section!