PHOTOS
Tim Gunn Explains It All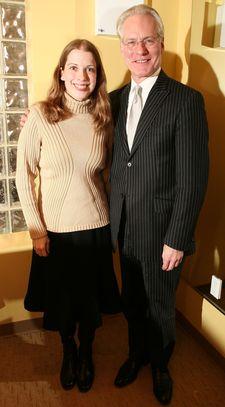 Tim Gunn is passionate about fashion, which is the reason he's getting behind the Addressing Psoriasis campaign in which select winners who are affected by the skin condition will get a trip to NYC to walk the runway in a special fashion show this September.
The cause is close to his heart: His sister lives with the chronic condition.
"I'm all about helping people with their fashion," the Project Runway star, 55, tells me. "It helps people feel better about who they are, and it helps them navigate the world with great confidence."
Article continues below advertisement
He adds, "People with psoriasis have a lot of self-confidence issues. A large aspect of that has to do with a belief that they must compromise the way that they want to dress according to places on their body where they're affected with psoriasis – according to itching, discomfort and pain. They just feel 'I can't really be who I want to be' fashion wise. Our message with the Addressing Psoriasis campaign is to say get to a dermatologist, there are myriad treatments out there – surely there's one for you that will be effective. Through proper treatment, you can do whatever you want in terms of lifestyle."
Tim, 55, sits down with me to talk about family, fashion and the secrets to his success.
Now that you're a big star, what is it like when you get together with your family in Virginia and Delaware?
My mother tells me about all the ways in which she wishes I would change my way of dressing. I have too many dark suits, I wear too many stripes – she doesn't like it. It's funny. There's nothing even remotely different, except my mother's list of criticisms from various things. Articles where she feels I should've said X when I said Y, back to the clothing.
Article continues below advertisement
In fact, when I went home for the Christmas holidays in '07, she looked at me and said 'I wish you would dress more like Mitt Romney.' Truly. I was horrified.
How does Mitt Romney dress?
Like Mr. Rogers. 'Wear a cardigan, get out of the suits.' 'Mother, I am who I am, and I'm fully branded this way.' I'm not sitting around her house on Christmas morning wearing this suit. But it's funny. I love her. She's my biggest critic.
What celeb gets their style right?
Oh, Angelina Jolie. What I want to say about Angelina Jolie is that it's one thing to take the red-carpet dressing and to evaluate it, but what interests me more is how they engage the real world and the rest of their life. I have to say she does it with superb sophistication and polish and appropriateness.
She knows what she looks great in, and I go back to appropriateness. She knows what to wear to pick up the kids versus walking the red carpet. She is appropriately aware that the paparazzi are around. She knows it's important to have a certain polish. At the same time, it looks easy. I'm sure it's not. It doesn't look studied, it doesn't look contrived. I've never seen her overdressed.
Article continues below advertisement
She's a great role model, but she's also otherworldly. It's not as though we can all be like this. No, I don't think so.
What celeb needs your help?
It would be so easy, and so much easier to pick out the obvious victims like Britney Spears, but you know who I'd really love to work with? And if only to have a conversation. Not to take her shopping, not to go into her closet, just to have a conversation.
Our Queen of Hollywood, our smartest actress, has a gorgeous figure, but she really eschews fashion. She really says – I believe she's saying – I'm too smart for this.
Meryl Streep. I really believe it. I'd love to sit with Meryl Streep and just say 'you are incredibly smart. Don't you subscribe to semiology?' And if so, clothing. It's a form of semiotics. The clothes we wear send a message about how the world greets us and perceives us. That messaging, to me, it's all-important.
Article continues below advertisement
If you do accept that, fine. I will accept that you're accepting responsibility for what you're wearing. But just to say 'I'm not a fashion person, I don't care about these things.' For me, that's not responsible. Dress however you want, provided you accept responsibility for it.
What are your style pet peeves?
Shirts that are entirely too short. The bare midriff is my all-time biggest pet peeve. Unless we're at a beach, I don't want to see it, and no one should see it under any circumstances.
Then there's the entirely too much cleavage. But it's the section in the middle that is my big, giant warning sign.
Good luck charm?
Clean underwear!
Will you check out The Fashion Show?
Oh, of course I will. Yes.
I have to ask … do you think it will take the place of Project Runway?
Project Runway is the original. Project Runway is the standard-bearer, and therefore nothing can take it's place.
Secret to your success?
Article continues below advertisement
I haven't a clue. I believe in doing everything as well as possible under the circumstances. I believe in … this is where I feel like a pompous airbag.
I believe in the importance of listening. I know from experience that more and more people just don't listen. And similarly, don't read. They read something, but they haven't "read" it. And so much of what we need to know to navigate the world well and successfully is right in front of our eyes and right in front of our ears. And we simply lack the patience or some attribute to really assimilate it. I know that that has been helpful for me.
Which isn't to say there aren't moments when I experience fatigue and it all dissolves.
But also, having respect for people and having patience.
What would your life be called if it were a movie, book or song?
I would call it Fanfare For the Common Man, after the Aaron Copeland piece because I couldn't be more common, and I've enjoyed so much luck and success. I mean, I pinch myself every day. I say I'm the luckiest guy in the world. So yeah, Fanfare for the Common Man. That's me.
Pick up the OK! out now to find out more about Tim's love life and tips for teens who are coming out of the closet. The cover line is Real Sizes Revealed! And, visit www.addresspsoriasis.com to find out more about the condition.
SEE MORE PHOTOS IN THE VALERIE GALLERY: