PHOTOS
Today We're Loving...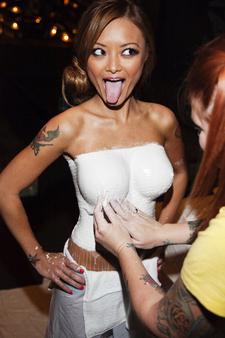 Since when was charity work this sexy?
OK, so today we're loving Tila Tequila's boobs.
Yes, the Shot of Love star's girls may be worthy of a "Today We're Loving" all on their own -- but we're particularly impressed because Tila has now donated them to charity!
Well, a plaster cast of them, at least.
On April 1 Tila stripped down to her skivvies at 1 Sunset in L.A. and had a mold made of her famous décolletage for the Keep A Breast Foundation, which raises awareness for the prevention of breast cancer.
Article continues below advertisement
And while we're loving stuff, we even love the jacket and underwear ensemble Tila arrived in before she was plastered!
Dying to get your hands on Tila's assets? You can bid on the cast at an auction to be held at the Playboy Mansion's white party, next month.
Check out our gallery for more shots of the event!