PHOTOS
Tori Too Busy to Think About Her Weight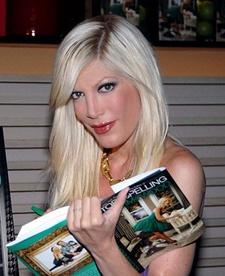 While people all around the world have recently expressed concern for actress Tori Spelling over what appears to be a dramatic loss of weight, the one person who definitely isn't paying attention to the headlines is the 90210 star herself.
"At the end of the day, i have two kids and a husband," Tori explained at a Friday afternoon press conference to promote the upcoming season of her reality show. "I have a lot of businesses to run. I don't have time to deal with whether they think I'm the perfect weight or what they think I should weigh." But before you go and think she's putting her well-being at risk for the sake of her career, she added, "I want to be healthy for my children."
Article continues below advertisement
In fact, said Tori, the only thing on her mind is how these kinds of stories will affest her daughter Stella. "She's a baby now, but imagine if she were like 15 and going through body image things and turning into a woman and reading this about her mother?" the actress asked. "What would she think? I want to be a positive role model for her so that's a difficult thing to deal with."
RECENT PICS OF TORI:
Tori also said that she can empathize with young stars like Lindsay Lohan, whose figures are always under intense media scrutiny. "I don't know what Lindsay Lohan goes through, but it is hard to be crticized in the public," she said. "It's harder for your family to deal with than you. You kind of get a thick skin but when you have kids and a husband, it's upsetting."
Speaking of family, Tori did open up a bit on her relationship with her estranged mother Candy. "I think my biggest concern about all that is: I don't want it to be played out as public as it's been made," she explained. "If there's a future — and when she says she wants to see the children, I'm totally open to that — but it needs to be private because I'm a mom and I need to protect them and if she wants to see them, there needs to be a private outreach to me... If she reached out to me, that would not be a part of my show."
By Carole Glines