PHOTOS
Tyler Baltierra Stands By Catelynn Lowell Amid Rehab Crisis: 'Giving Up Is NOT An Option'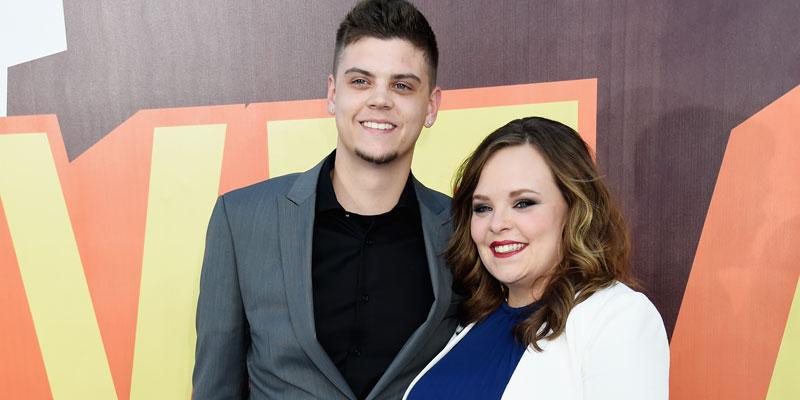 Tyler Baltierra is sticking by his wife Catelynn Lowell's side as she gets help in a treatment facility after experiencing suicidal thoughts two weeks ago. When a fan wondered how Tyler hadn't "thrown in the towel" already between Catelynn's struggles and his own father Butch's run-ins with the law, Tyler replied that giving up is "not an option."
Article continues below advertisement
"Wonder if @TylerBaltierra ever feels like throwing in the towel between his wife & dad; how do you release all of your stress? #TeenMomOG," the fan asked via Twitter.
"You can't throw in the towel on Family & people that you truly love. Giving up is NOT an option," Tyler replied. "Yes it's stressful, yes sometimes I just break down & cry, yes it's overwhelming, & yes it's emotionally draining," he admitted. "But right now I have to be strong for my family."
Article continues below advertisement
But fans told Tyler, who shares two-year-old daughter Novalee with Catelynn, that it was important to look after himself as well. "Just remember that yes you are the man of your family but your health is just as important," one fan wrote.
A few days ago, Tyler gave fans an update on Catelynn's condition. "She sounds better & better every time we talk. That woman has a fierce resilience & I love that about her!" he wrote on Instagram.
Article continues below advertisement
"Even after 12 years, I continue to be AMAZED by her strength, vulnerability, & courage to get help," he said in another post. "I will got to battle EVERY TIME for her."
This isn't Cate's first time seeking help for mental health. In March 2016, she entered a treatment facility due to postpartum depression and anxiety after giving birth to Novalee.
What do you think of Tyler's support of Catelynn? Sound off in the comments below!