PHOTOS
VIDEO: American Idols Go To Disney World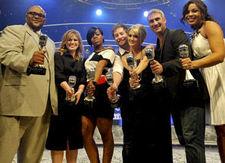 All seven American Idols descend on Disney's Hollywood Studios for The American Idol Experience opening held Thursday in Lake Buena Vista, Fla.
It's the first time the winning superstars have ever been together!
It's certainly a cause for celebration: Carrie Underwood and David Cook duet on Fleetwood Mac's Go Your Own Way during the show, which features a handful of real-life competitors vying for the prized ticket. "Carrie looks amazing and I'm just stoked to be here," David says. Watch OK!'s exclusive video!
Article continues below advertisement
What advice would Carrie give wannabe contestants?
"Do whatever you love," the All-American Girl singer says. "Sometimes the judges may tell you you shouldn't do it for living, but if that's what you love, you shouldn't give it up. So no matter what happens, if you get the magic ticket, the fast-track ticket, use it -- even if you don't, still sing.
One thing Carrie won't be trying? Her hockey-playing boyfriend Mike Fisher's sport. (He swings for the Ottawa Senators.) "I can't play hockey at all," she laughs. "I can't even fake."
Kelly Clarkson -- who tells me her slim physique can be attributed to wearing black and not white -- gives the attraction her stamp of approval.
"This is pretty cool," the My Life Would Suck Without You singer says, turning her attention away from Michael Johns. "It's the first time we've actually all been together, so it's like a family reunion."
Jordin Sparks can't believe her eyes. "It's really creepy how close to the show the attraction actually is," she says. "It's got the lights and the fog and the music and the judges. It's really, really weird, but it was a lot of fun."
Article continues below advertisement
What's something the No Air singer has lost? Her love for Chris Brown, who likely ended his career by messing up OK! darling Rihanna. "It's pretty much gone now," she tells me.
Meanwhile, Paula Abdul has one regret tonight. "I just wish they would all sing," she says. "It would've been fun to hear it." She adds, "There's a lot of déjà vu going on. I got a kick out of watching the success of the Idols."
What tunes would Phil Stacey suggest picking for this attraction?
"You should definitely choose a Celine Dion song or a Whitney Houston song," he says. "No, I'm kidding. You should do Disney songs. You should get up there and do Can You Feel The Love Tonight or A Whole New World. You're at Disney World! You're only going to get the opportunity to do that once."
Although Kellie Pickler, Chris Daughtry, Clay Aiken, Jennifer Hudson and Simon Cowell send regrets, the sizeable Idol turnout also includes a giggly David Archuleta, purple-haired Diana DeGarmo, newlywed Ruben Studdard, tan-and-fit Taylor Hicks, talkative Bo Bice, friendly Ryan Seacrest, jovial Justin Guarini, shy Fantasia Barrino, Idol alum-turned-Rascal Flatts songwriter Chris Schleich, tattooed Carly Smithson, Aussie Michael Johns, chatty Ace Young, dreadlocked Jason Castro, Southern gentleman Josh Gracin, zany Sanjaya, slimmed-down Mandisa and mom LaKisha Jones.
Article continues below advertisement
Woo-hoo! David Cook, David Archuleta, Fantasia, Sanjaya and Jason take a spin on the Rock 'n' Roller Coaster during the afterparty held on Sunset Boulevard. No lines, no waiting!
As Kat DeLuna's Whine Up plays, Idols enjoy blue martinis, chicken, steak, garlic mashed potatoes, sushi and the signature American Idol dessert.
Disney certainly treats its Idols well: Ace (and girlfriend Allison Fischer) "hit every ride in about seven hours, and then hit the rides we liked again." Phil took his five-year-old daughter Chloe on Space Mountain. "It's intense, and she actually tried it," he says. "It was frightening for me, but she wasn't crying at all. She loved it." LaKisha's five-year-old daughter Brionne would ride Space Mountain the following day. "She can't wait to get on it. She's a little daredevil."
Still, some might call singing in front of hundreds of people in The American Idol Experience daring.
"I think anybody who gets a chance should absolutely do it," David Cook says.
Bonus: I worked at Disney Hollywood Studios as part of the Walt Disney College Program, so this is quite a homecoming! I could be found sweeping Sunset Boulevard, the street on which this party is held. It is incredible – and the uniforms are still the same. ;)
The American Idol Experience is now open at Disney's Hollywood Studios.
*Video production by Chris Morran.