PHOTOS
Video: Isla Fisher's 'Confessions'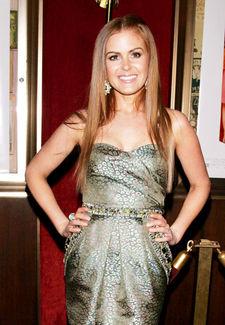 Isla Fisher slips into a warm white coat moments after she poses in a barely-there Matthew Williamson gown during the Confessions of a Shopaholic premiere held Thursday at NYC's Ziegfeld Theatre.
It's no secret: The actress engaged to Sacha Baron Cohen and mom to their 15-month-old daughter Olive is a trooper. She's smart about her choices in the bone-chilling 22-degree temperature.
As Claire Danes, John Goodman and Leslie Bibb slip through, Isla, 33, stops to chat about her fabulous life and the fashion-forward romantic comedy.
Article continues below advertisement
Watch OK!'s exclusive Confessions of a Shopaholic premiere video!*
What did Isla learn from Patricia Field, who styled the flick?
"For some reason, I used to think that everything should match -- your handbag and your shoes, or your belt and your shoes," the bundled-up Aussie says. "And Patricia is the complete opposite. Nothing needs to match, and letting go of that sort of falsehood was good for me. Now I'm more courageous when I get dressed."
Just because Isla is a movie star doesn't mean she's all glamour, all the time. "I think the Long Lash mascara by Maybelline is pretty fabulous," she admits.
And she's even made decisions she regrets.
"I've had a lot of buyer's remorse," Isla says. "Very often, whenever I do shop, I always do tend to feel pretty badly when I come home and say 'I don't think this goes with anything else in my wardrobe' or 'I'm never going to use the thing that you can't wash in the machine.'"
Article continues below advertisement
In the life department, Isla sings out "Sacha" as the funniest one in the house, and calls motherhood "the greatest thing that's ever happened to me." Of life with Olive, she says, "At the moment I love singing Row, Row, Row Your Boat with my daughter."
For this role, Isla confesses she lost fifty pounds so she could fit into the fashionable frocks soon after Olive's birth. As for her post-baby workout? She demonstrates with a few red-carpet lunges. Hilarious!
Now about that baby … Costar Wendy Malick tells me Olive "looks like the dad" and director P.J. Hogan tells me Isla's mini-me was "sucking her thumb and eating a lot."
Get this! "Olive had a director's chair all of her own," P.J. reveals. "There were a couple of scenes she had some good ideas on. She's not a diva at all. She was a well-behaved little baby. She was well-liked. I just wish the baby had played a part in the movie!"
Article continues below advertisement
Meanwhile, Hugh Dancy tells me it's "great" to share his premiere night with his mom and girlfriend Ms. Danes, who waves to me before going inside. Is it important that his mom approves of his lady? "'Approves' is too strong of a word," he says. "Everybody wants harmony."
Here comes the crown: Miss America Katie Stam tells me she's such a saver she doesn't even have a credit card, and Ugly Betty's Mark Indelicato admits to a shoe fetish.
"I go to the shoe store Jump, downtown," he says. "Oh my God, I need to go down there soon. I need to get a pair of boots."
R&B star Shontelle has trouble splurging. "When I spend too much money, I usually regret it because I end up wearing it once, twice maybe, and then I'm like 'how much food could I have bought with this?' or 'how many people could I have fed with this?' But there are certain things where I just can't help myself, like a really great pair of shoes or a handbag."
Why should we see Confessions of a Shopaholic?
"The movie's really sassy," Isla says. "It's really great that it's escapism during a difficult time."
Confessions of a Shopaholic is in theaters February 13.
*Special thanks to OK! cameragirl Jac'leen Smith and OK! uber-producer Chris Morran.