PHOTOS
Video: Kelly Ripa's Dirty Secret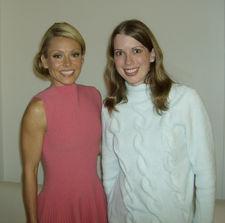 Kelly Ripa is serving up cupcakes when she unveils colorful Electrolux appliances during an event to benefit the Ovarian Cancer Research Fund held at NYC's Splashlight Studios on Tuesday.
Moments later, she parades from the red-hot-red kitchen appliances to the washer-dryer set. "I'm taking it all off!" she jokes. "It's all coming off right now."
She adds, "With three kids, I do copious amounts of laundry, and it's the best washer and drier on the market," she says. "Really, you can wash and dry your clothes in 36 minutes."
Article continues below advertisement
Watch OK!'s exclusive video.* (It feels like you're at the event!)
Time is of the essence for Kelly, 38, who is mom to Michael, 11, Lola, 7, and Joaquin, 5, with hubby Mark Consuelos, 37. Along with her busy Live schedule and family life, she finds time for working out.
"I feel like if you want anything bad enough, you can make it happen for yourself," she tells me. "You either have to get up early and do it or wait until the kids go to bed and do it. Or wait until they're in school and you have time during lunch breaks to do it. That's what I do. I go during lunch break and I do it."
Every day, Kelly runs or participates in Physique 57, which is a combination of Pilates, yoga, aerobics and weights set to music.
"You work your front, and it's using your own body weight to build muscle," she tells me.
Time for exercise is made possible by the Electrolux washer-dryer combination, which is up for grabs when readers register to send virtual cupcakes here during the Valentine's Day virtual bake sale to benefit OCRF.
Article continues below advertisement
"You send it to a person of your choice, and Electrolux donates $1 to OCRF towards the goal of $500,000," Kelly says. "It's fat-free, it's sugar-free, it won't cause cavities, and every time you register online, it sends a virtual cupcake – you are automatically entered to win that gorgeous front-loader washer and dryer."
Visit the virtual bake sale going on through February 28, and enter for a chance to win while helping fight Ovarian cancer.
*Video editing by Chris Morran.