PHOTOS
VIDEO: Kendra Shows Off Stripper-Pole Workout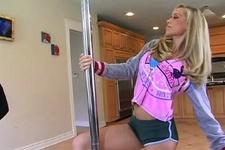 Yesterday, OKmagazine.com had the pleasure of bringing you the first pics of reality star Kendra Wilkinson showing off her soon-to-be-released line of stripper "exercise" poles.
Now, we're even happier to bring you something better — video!
The former Girl Next Door — who is set to debut her own self-titled reality show on E! next week — set up one of her poles in her own home and taped a demo of her booty-shaking skills for her <a href="https://kendrawilkinson.celebuzz.com/2009/06/shakin-my-ass-on-the-pole/" target="_blank">a post on her personal blog</a>.
Article continues below advertisement
"I can definitely see people like Cameron Diaz, Kate Hudson and Scarlett Johansson loving my sports pole," she writes. "Not to mention that they would look soooooooo HOT doing it!"
So, without much further ado, here is the video:
<object width="410" height="415">
<param name="movie" value="http://www.buzznet.com/assets/player_buzznet_partner.swf" />
<param name="flashVars" value="track_title=Kendra Wilkinson Works the Pole!&track_description=Kendra gets a lesson on fitness and sex appeal...not that she needed it...&flv_url=http%3A%2F%2Fcbcdn.buzznet.com%2Fassets%2Fvideox%2F4%2F1%2F0%2F9%2F5%2F0%2F1%2Fvid-4109501.flv%3F1243985943&watermark_url=http%3A%2F%2Fwww.buzznet.com%2Fassets%2Fpartner%2F&background_url=http%3A%2F%2Fwww.buzznet.com%2Fassets%2Fpartner%2Fbg_celebbuzz.png&title_color=0xFC385F&provider=&show_ads=true&context=0264355552&flv_image=http%3A%2F%2Fcdn.buzznet.com%2Fassets%2Fimgx%2F8%2F0%2F9%2F3%2F6%2F7%2F1%2Flarge-8093671.jpg&recording_id=4109501&provider_id=62&no_embed=1&adaptag=Celebuzz" />
<param name="allowScriptAccess" value="always" />
<param name="bgcolor" value="#FFFFFF" />
<param name="quality" value="high" />
<param name="wmode" value="transparent" />
<embed src="http://www.buzznet.com/assets/player_buzznet_partner.swf?track_title=Kendra Wilkinson Works the Pole!&track_description=Kendra gets a lesson on fitness and sex appeal...not that she needed it...&flv_url=http%3A%2F%2Fcbcdn.buzznet.com%2Fassets%2Fvideox%2F4%2F1%2F0%2F9%2F5%2F0%2F1%2Fvid-4109501.flv%3F1243985943&watermark_url=http%3A%2F%2Fwww.buzznet.com%2Fassets%2Fpartner%2F&background_url=http%3A%2F%2Fwww.buzznet.com%2Fassets%2Fpartner%2Fbg_celebbuzz.png&title_color=0xFC385F&provider=&show_ads=true&context=0264355552&flv_image=http%3A%2F%2Fcdn.buzznet.com%2Fassets%2Fimgx%2F8%2F0%2F9%2F3%2F6%2F7%2F1%2Flarge-8093671.jpg&recording_id=4109501&provider_id=62&no_embed=1&adaptag=Celebuzz" width="410" height="415" align="middle" quality="high" wmode="transparent" type="application/x-shockwave-flash" pluginspage="http://www.macromedia.com/go/getflashplayer" allowScriptAccess="always"/>