PHOTOS
Wayans Family Just Born Funny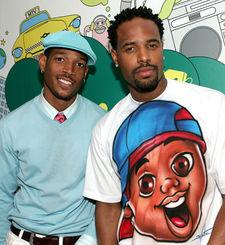 The Wayans family brings their schtick to Waldorf-Astoria Towers, cracking jokes at every turn. Funny is in the genes for the family whose comedy Dance Flick is in theaters now.
The hilarious parody includes a total of ten Wayans: Damien, Keenen Ivory, Shawn, Damon Jr., Kim, Craig, Chaunte, Michael, Cara and Gregory.
Is there pressure to enter the family business?
"Well, I originally wanted to be an artist," Damon Jr., who stars in the movie, says. "I went to college for art school to do comic books, animation and character design. When I realized that wasn't going to make me any money, I figured I should make money being funny."
Article continues below advertisement
Shawn adds, "I love comedy. This is what I was born to do. It excites me to wake up and do something funny."
This family keeps the laughs rolling during Dance Flick.
"The most memorable experience was having first generation and second generation all be together on one set," Damien tells me. "For me, I think when my nephew, Little G, was on set and he wanted to be in the scene. We put him in the scene and I kissed him right on his mouth and he looked at me. For his first time ever onscreen, he was molested by me. It was like I took him down by his head and kicked it to the clouds. He was just like, 'what the hell?'"
What's the biggest lesson Damon Jr. has learned from his family?
He says, "I learned no matter what's put in front of you, always have fun. I can never, ever get upset. There are just certain things that I can't say or do, and I can't take that personally. I just take what's given to me, and make it as funny as possible. And then, when I'm given something that's funny, to really make it funny. So, always have fun."
Article continues below advertisement
Who's the Alpha Male?
"There's a certain respect level," Marlon says. "When Ivory's around, my mother taught us oldest to youngest. Right now, Shawn's in charge. He's the older uncle, and then it passes to me, and then it goes to Craig, and then it goes to Damien, and then it goes to Little Damon. It's always oldest to youngest. You respect your elders. When Keenen's around, we respect the godfather. When the godfather's around – my dad? He's the little boy. There's always a hierarchy."
Damien adds, "I think the beauty is a big secret to the second generation 'cause if you see our interaction … I think the beauty is what we see also and what we see in the entirety… it's like a 'wow' factor. You see a model. It's almost like some black Beatles walking around. For us, the second generation, we only hope to get to that level. There's this hierarchy and respect level."
Dance Flick is in theaters now.