PHOTOS
While You Were Sleeping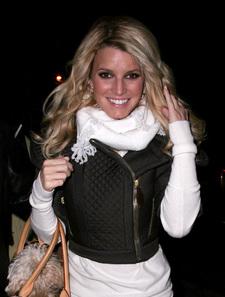 Jessica Simpson shaves — her face? The older-but-probably-not-wiser Simpson will appear on the cover of Esquire magazine next week recreating a March 1965 cover image featuring Marilyn Monroe lookalike, actress Virna Lisi, covered in shaving cream. The original cover was a spoof on women's liberation, reports Gatecrasher.
Beatles or Rolling Stones? It turns out Paul McCartney's four-year-old daughter with Heather Mills, Beatrice, is way into the Stones over daddy's old band. The precocious tot was spotted picking out clothes with her nanny in New York over the weekend and selected a dress, a striped tank and a Rolling Stones tee shirt, reports Page Six.
Article continues below advertisement
Jerry Seinfeld should stay off the road. The "nothing" comedian got into trouble last week when his Fiat flipped in the Hamptons, and just days later his Porsche broke down in Greenwich Village. Comic pal Colin Quinn joked on the Opie & Anthony radio show that he was tired of giving Seinfeld "the old jump-start." Must be rough.