PHOTOS
'DWTS' Super Fan William Shatner Goes On BIZARRE Twitter Rant About Nick Viall & We've Got A Lot Of Questions!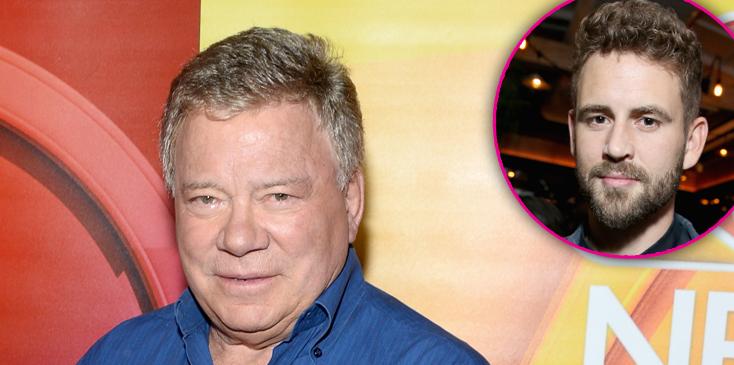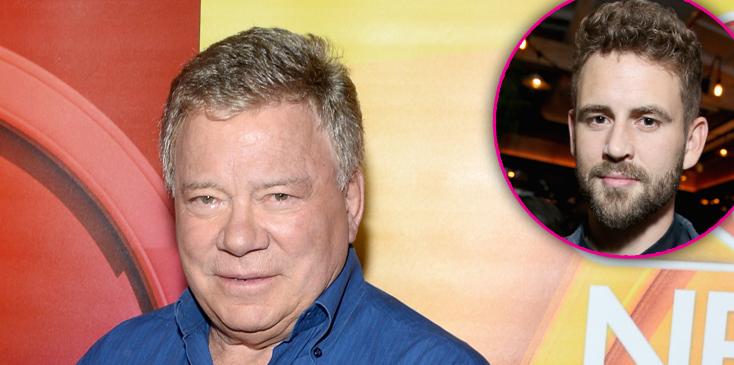 Who knew William Shatner even watched The Bachelor, let alone watched it enough to form a scathing opinion of Nick Viall? (Definitively not us). And who knew William's strong disdain for the reality star would drive him to create an entire twitter campaign to have Nick kicked off of Dancing With The Stars? (Again, not us!). Well, let's just catch you up on how the 86-year-old actor's anti-Nick tweeting fest began!
Article continues below advertisement
Before the ABC show even aired, on Monday, the DWTS die-hard fan, William, tweeted that his goal for this season was to "knock Bachelor Nick out ASAP…Who is with me?" he asked his 58.4K followers. "Whoever your favorite is — just not Nick — make the 10 phone calls for them. How do we get #BachelorNation to not vote for Nick?"
Once the show started, Will's mean tweets continued as he started the hashtag, #Dontvote4Nick. "Vote against him," he tweeted. "The more everyone votes for everyone else the quicker he'll be off."
Article continues below advertisement
When a fan retorted that Nick is "kind of sensitive" and Will's tweets could "break his heart," the actor responded: "And your point?" Then another fan asked what was the reason he disliked the Bachelor star so much, to which he responded, with an eye roll emoji: "Google it…He lives up to the homonym of his last name…Watch Andi Dorfman's Bachelorette Season where he started this Viall journey."
When one fan pointed out that Nick had learned from that experience and was a much more likable guy on Bachelor In Paradise, William fired back: "Leopards don't change their spots. Don't be surprised if he shows up again on paradise. I won't be. Please vote for anyone but Nick." #LetItGo
Article continues below advertisement
Nick finally weighed in on Tuesday, just hours after making his DWTS debut, by simply tweeting a sad face emoji, in reply to one of Will's mean tweets. Now does that sound like a guy who should be subjected to over a dozen mean tweets?
Do you think William was being too harsh? Let us know your thoughts in the comments section!