PHOTOS
World Exclusive! Tori's Miracle Baby Girl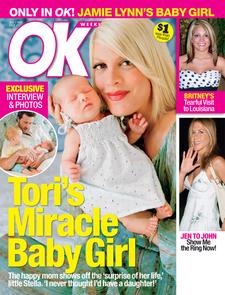 Almost one year to the day their son Liam was born, Tori Spelling and hubby Dean McDermott got the surprise of their lives when they discovered they were expecting baby number two!
Even more exciting--the couple, whose travails are chronicled on Oxygen's Tori & Dean: Home Sweet Hollywood, found out they were having a little girl, something that Tori says she thought she would never experience. Now the couple is talking only to OK! with an exclusive interview about their joyful journey.
Article continues below advertisement
"She's a miracle," Spelling tells OK!. "I was on one pill and wasn't feeling well, so I went off of it. Two days later, the doctor put me on another, and on that one day, we conceived. It was meant to be!"
As , the couple welcomed daughter Stella Doreen into the world on June 9. The infant weighed in at a dainty 6 lbs. 11 oz. and had a full head of beautiful black hair.
(photographed exclusively for OK! by Elizabeth Messina)
"My first thought was, 'My god, she's so beautiful,'" Tori gushes. "My second thought was, 'Oh my god, she has black hair! Where did that come from?' laughs Liam has blonde hair and is very fair. She was born with black hair, very tan."
Tori continues, "I never thought I'd have a daughter. Dean's first child Jack is a boy and then we had Liam and I thought, 'Because I'm so girly-girly, I'll have all boys.' "
Dean agrees, adding, "When I saw Stella for the first time, I just bawled my face off out of pure joy. I've always heard that there's nothing like that bond between father and daughter. There is nothing like it — you feel it that moment. It hit me like a ton of bricks. Little boys are awesome. They're just like a little you. But having a little girl is something else. As a man, you just lose it."
For the entire interview with Tori and Dean — including more exclusive photos — pick up the new issue of OK!, on sale everywhere Thursday!