PHOTOS
Zoie Makes Her TV Debut!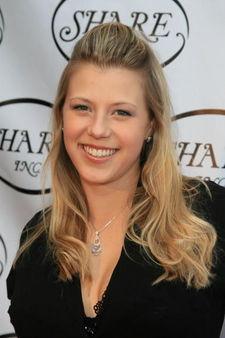 What a busy, exciting week this has been! Yesterday our house was filled with cameras all day. Literally, from 7:30am to 5pm we had people in our house filming for both Access Hollywood and Good Morning America.
They got some really great interviews though and baby Zoie got to make her television debut! She did pretty well for the Access shoot (she had just been fed though) but by the time the GMA people got there and had all the cameras set up, she was getting pretty cranky.
Article continues below advertisement
(Baby Zoie right after making her Good Morning America appearance)
You can kind of see in the photo that the baby is not too happy. But for such a long day, she did pretty well. Maybe when she gets older, she'll be in front of the camera like her mama! Who knows?! If she wanted to get into acting, I'll totally support her. But if she doesn't want to do it and would rather play soccer, dance or do karate, I'll support her in that too. As long as she's happy, I'm happy!
(My trainer Josh Love puts me through the paces)
I have Josh, my trainer coming to the house for another session today. Man, am I sore from Tuesday! He really gave me a good routine that day and I'm sure I'll get another today.
It's good though to feel those muscles working out again. I think I actually have sore abs! I can't even remember the last time I felt my abs, it's been so long. I'm sure by the end of today, I'll just want to take a nice long nap.
Looking forward to the weekend!