REALITY TV
Amber Portwood Breaks Down Discussing Her Suicide Plans & Quitting 'Teen Mom OG'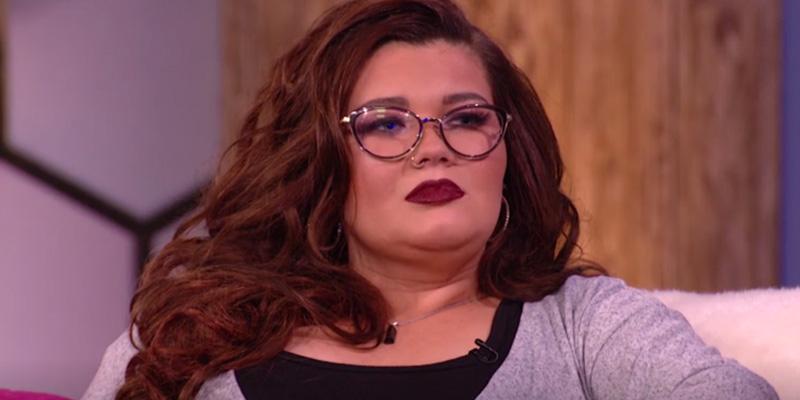 The first reunion with the new OGs!
Before Dr. Drew sat with each woman individually, he brought them together on stage for the first time with his co-host Nessa. Maci Bookout admitted that welcoming two new cast members on the show was natural and an easy transition, but the mother-of-three broke down while discussing her longtime co-stars, Amber Portwood and Catelynn Lowell. Maci shed some tears discussing social media and the impact it has made on mom-shaming.
Article continues below advertisement
Amber sat down with Dr. Drew to update him on her postpartum depression and life with her sweet baby James. The now mother-of-two explained that despite her past and being on television for ten years, social media bullying in not okay on any level. As seen on the season finale, she admitted that she planned on committing suicide one night after her boyfriend, Andrew Glennon, and James fell asleep, but he knew something was wrong. Amber admitted during her segment that she planned to hang herself, but Andrew stepped in. Following the heartbreaking confession, Amber quit the show. Luckily, the audience let Amber know they would miss her terribly if she was to quit!
Maci had a roller-coaster season with her family, her ex-boyfriend Ryan Edwards, and his family. During the taping of the reunion, Ryan was in rehab so he was unable to attend. The mother-of-three admitted that it was terrifying hearing that Ryan allegedly threatened to shoot her husband, Taylor McKinney, in the head and realizing how dangerous her ex's addiction got. Despite the rocky situation that Ryan caused, Maci admitted that nothing will tear her apart from his parents, Jen and Larry.
Article continues below advertisement
Catelynn had one of the craziest seasons yet with a surprise pregnancy, her husband Tyler Baltierra moving out, and working on her treatment after her rehab stint. After leaving treatment, Cate learned that her trauma stems from her childhood with her father leaving and her mother's battle with alcoholism. Later on, Tyler joined Cate on the stage and he explained his reason behind his desire to want to separate. He explained that following Cate's treatment, he needed time for himself and needed to find himself. He updated the audience saying the two are continuing to work on their issues.
Cheyenne Floyd sat down with Dr. Drew for the first time to discuss being on a different MTV show. She was previously on a few different shows with her baby daddy, Cory Wharton. Despite not being together, Cheyenne couldn't help but gush over Cory and how he pulled her out of the darkest time in her life. Shortly after their daughter, Ryder, was born, they learned she has a genetic disorder which left her devastated, but Cory was there for her. Cory wasn't on the stage at the moment, but Cheyenne seemed to have hinted that she wants to be in a serious relationship with him, but he isn't ready just yet.
Bristol Palin sat down with Dr. Drew for the first time as well to discuss her first season on the show. Viewers first met Bristol and her now ex-husband, Dakota Meyer, on the brink of a divorce. Shortly after, the couple split and they both had to find their own way and learn how to co-parent their two daughters. Throughout the season, the two did not get along at all.
What did you think of the first part of the reunion? Let us know your thoughts!