REALITY TV
Chelsea Houska Furious After Adam Lind Fails To Visit Aubree Again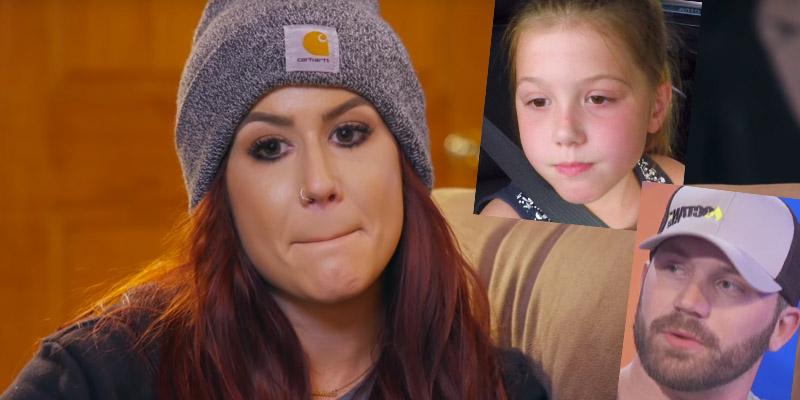 Baby daddy drama overload!
Chelsea Houska is fed up with her first baby daddy, Adam Lind. His mother, Grandma Donna, told Aubree that her dad would be coming to school to have lunch with her, but in the end, he didn't show. The 9-year-old was annoyed that her dad didn't come see her, but she seemed to have handled it better than Chelsea did. The mother-of-three explained to her producers that it's frustrating when Adam's mother tells her plans like that, especially when they fall through. Aubree later went to her monthly over-night visit and learned that Adam didn't show up to lunch because he was sleeping. Following another let down, Chelsea and her husband Cole DeBoer discussed plans for him to adopt Aubree admitting that they are letting her make decisions on her own terms.
Article continues below advertisement
Leah Messer is hoping to make a few changes for her daughter Addie, but she's doing it very carefully. As fans may know, her second ex-husband, Jeremy Calvert, works extremely hard for months at a time for his job, which leaves him unable to see their daughter Addie as much as he would like. Even though Leah didn't want to start any drama and make Jeremy feel hurt, she mentioned their daughter had a meltdown when she learned she wasn't able to see her dad. The two agreed that Jeremy would be able to see Addie more when he's home.
Briana DeJesus is putting her foot down with her second baby daddy, Luis. After learning that he was no longer paying for their daughter Stella's daycare on last week's episode, she decided to file for child support. Briana flew to New York to explain to her second baby daddy the reason behind her filing, as well as some changes she would like to see, for example him calling their daughter more often. Luckily, the meet-up went better than expected and Luis agreed to everything Briana said. Besides Luis being open to change, Briana's boyfriend John was extremely supportive with her meeting up with Luis.
Article continues below advertisement
Jenelle Evans is going through a rough patch, but this time it's due to her health. The mother-of-three wasn't feeling well due to her sinuses and learned that she needed to go see an ENT doctor to help. At the end of the episode, photos were shown of Jenelle after getting a procedure done.
Kailyn Lowry is fed up with her first baby daddy, despite the years of hard work it took to co-parent civilly. As seen on previous episode, Jo Rivera filed for child support against Kail for their son Isaac, and it left her completely shocked. She was furious that Jo would file behind her back and not discuss it together prior.
What did you think of tonight's episode? Let us know your thoughts!