REALITY TV
Jenelle Evans Accuses Son Jace Of LYING About Gun Road Rage Incident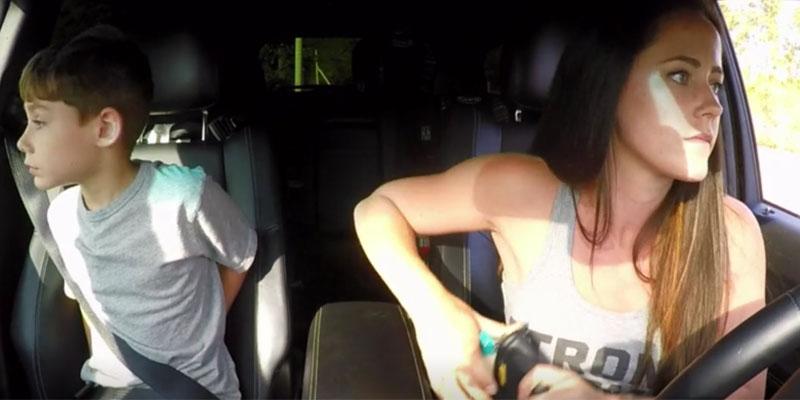 The season finale was filled with drama!
Jenelle Evans and her son, Jace, were caught in a chilling road rage incident after a driver was "tailgating" their car during last week's episode. The situation escalated after the mother-of-three followed the other driver to his house, called the police on him, and pulled out a gun...in front of her son. After Jenelle was pulled over by the police following the incident, the officer asked her to step outside the vehicle to discuss it further. Jace called Jenelle's mom and his guardian, Barbara, and informed her what happened. When Barbara confronted Jenelle about the incident and the gun, Jenelle denied ever taking out a weapon. Barbara told her that is what Jace said and then Jenelle yelled at her 9-year-old son accusing him of lying about the gun. After getting home, Barbara called Jenelle's ex and second baby daddy, Nathan Griffith, and told him what happened with the road rage incident. "We got to get those kids out of that house," she told him on the verge of tears. Later on while shooting a special without David nearby, Jenelle threatened to quit the show and proceed with other projects if her husband is not allowed to film. "He will film the next season or I'm not doing it," she told her producer. "I have people offering me stuff for Netflix and Amazon right now. I will do my own thing."
Article continues below advertisement
Leah Messer is cracking down for her daughter, Ali! After learning on last week's episode that her daughter Ali's school aide was being let go, the mother-of-three and her ex-husband, Corey Simms, were not happy. The 8-year-old has muscular dystrophy and her aide helps with her everyday tasks. Luckily, Leah and Corey learn that Ali will be able to have her aide throughout the rest of the school year which gives them time to think about what's best for their daughter for the following year. And when it comes to her children, Leah doesn't waste any time! She decided to call an attorney to fight the school's decision. "I'm about to call my attorneys," she said. "They did special needs cases against the school. The school would be held liable if something happened to her." Later on, Leah took Ali for some testing and the results were heartbreaking. She explained that one of the breathing tests came back low while trying to hold back tears.
Chelsea Houska isn't a happy mama! While driving in the car with her husband, Cole DeBoer, she saw a photo of her daughter Aubree hanging out with her dad Adam Lind, despite their custody arrangement stating that he must only see her at a supervised visitation center. Chelsea let the 8-year-old visit Adam's parents, but it seemed that Adam stopped by for a visit and then posted the photo on Snapchat. "Obviously a court or a judge decided that it's unsafe for him to f**king see her without being at a supervised center and now his parents think it's just okay, 'yeah come on over!'" Chelsea's husband said. Later on, Chelsea revealed that Adam's parents took full responsibility for what occurred and apologized many, many times.
Article continues below advertisement
Briana DeJesus isn't happy with her own mom, Roxanne! Following the plastic surgery, Roxanne had a one-on-one conversation with her daughter's on-again-off-again boyfriend, Javi Marroquin. On last week's episode, the reality star grandma slammed Javi for showing up in Miami to talk with Briana just hours before her surgery and with the MTV camera rolling. She certainly wasn't afraid to accuse him of wanting to be in the spotlight at all times. After Briana woke up from her surgery and realized Javi fled Miami, she slammed her mother for what she did. "You should have never done that, sorry," Briana told her mom, adding, "There was no reason for you to do what you did." Briana's ex, Dre, ended up coming to take care of her.
Following the Miami nightmare, Javi sat down with his ex-wife, Kailyn Lowry, to tell her everything that happened. "I'm haunted by Miami. It was like a drama show in real life," Javi told her. "Her mom was talking nonsense. She thought I was using her daughter for fame or exposure or whatever it was." Luckily, Javi can always count on Kail for keeping it real with him! "I'm going to be honest with you...you're going to Miami to take care of this b***h who doesn't give a f**k about you...like why?," she asked him. Javi agreed with her thoughts and apologized for his actions.
What did you think of tonight's episode? Let us know your thoughts!