REALITY TV
Shocking Footage: Jenelle Evans Pulls A Gun Out On-Camera In Front Of Jace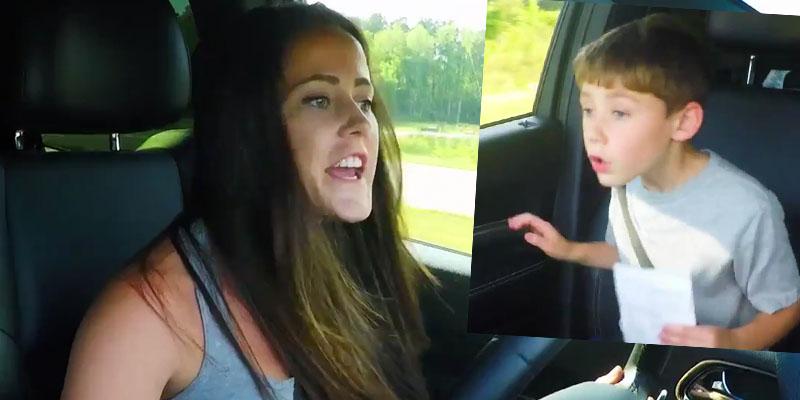 Tonight's episode was horrifying.
Jenelle Evans was excited to pick up her son, Jace, and take him out for ice cream. However, things took a turn for the worst when the mother-of-three got into an explosive road rage incident. The other driver was "tailgating" her car and then proceeded to go around her and cut her off. "Are you f*****g me dude," she screams at the driver as Jace looks terrified in the front seat. The other driver then got off the highway so Jenelle decided to follow him and ended up in front of his house. As seen on camera, Jenelle seems to have moved her gun closer to her seat. After taking photos and accidentally hitting the driver's mailbox, Jenelle attempted to leave but the other driver "blocked" her in and "hit her car." MTV didn't show the scene, but explained that Jenelle pulled out her firearm during the explosive fight and screamed, "Dude leave me alone!" Then, she proceeded to drive away with the other driver following her, but he eventually left. Afterwards, Jenelle got pulled over by a cop and she explained what happened.
Article continues below advertisement
Chelsea Houska did her part when it comes to her custody agreement with her first baby daddy, Adam Lind. The pregnant reality star went to lunch with her mom, Mary, and opened up about the struggle when it comes to Aubree's dad. She confessed that he hasn't seen his 8-year-old daughter in months and he hasn't attempted to schedule a visit with her at the supervised center. Chelsea and her husband, Cole DeBoer, went to look at the supervised center as well as fill out paperwork, and she was so upset. "I almost started crying five times because it's just...you don't ever picture this I guess," she said.
Briana DeJesus' big surgery is finally here! But first, she had to deal with her on-again-off-again boyfriend, Javi Marroquin. Her mom, Roxanne, and sister, Brittany, were not happy with Javi showing up a day before she went under the knife and via FaceTime, Roxanne warned her. Following surgery, Javi was set to take care of Bri, but those plans quickly changed when her ex and first baby daddy, Devoin Austin, Roxanne, Brittany, and the girls came to stay in Miami. Before Javi left, Roxanne decided to have a one-on-one conversation with him and admitted she wasn't too happy with his recent decisions. "Why did you come in so fast? Why the proposal when you should have waited? Why say you're going to be deployed and you're not deployed? Which I get it, s**t happens but you have been dragging that deployment since Kail Lowry two seasons ago. How it looks to me now that I look at how you played your cards, I'm very suspicious," she said. "You were reckless, you know why…because you want to be in the spotlight, you want to maintain it." Javi packed his bags and looked for a hotel in Miami.
Article continues below advertisement
Leah Messer got devastating news after her amazing trip to Hawaii. After she picked up her daughters from school, Ali's principal pulled Leah aside to tell her Ali's aide is being transferred to a different school. Ali has muscular dystrophy and has the aide assist her when she's at school for many different things including eating, carrying her bag, learning, and more. Leah got so upset by the news that she pulled her car over to talk to her producer. "It is a necessity for her. This is her livelihood. This is how she gets things done in school," Leah told him. Before heading to the doctor with Ali, Leah dropped Aleeah off with her dad, Corey Simms, and the two discussed the school's decision. Both parents agreed how wrong it is and how they are going against IEP. "We shouldn't even have to go through this," Corey said.
Kailyn was heading to court! The mother-of-three was heading to court to battle her third baby daddy, Chris Lopez, over child support for Lux Russell. After returning home from Hawaii, Kail was sent multiple texts from Chris calling her a bad mother, which left her furious. Before having to leave for court and see him, Kail told her friend, Bone, that she was not happy because due to her income, Chris will be cut some "slack" when it comes to child support. The exes came to an agreement, but Kail wasn't thrilled over it.
What did you think of tonight's episode? Let us know your thoughts!