REALITY TV
Jenelle Evans Defends David Eason's Homophobic Twitter Rant: 'He Still Feels The Way He Feels'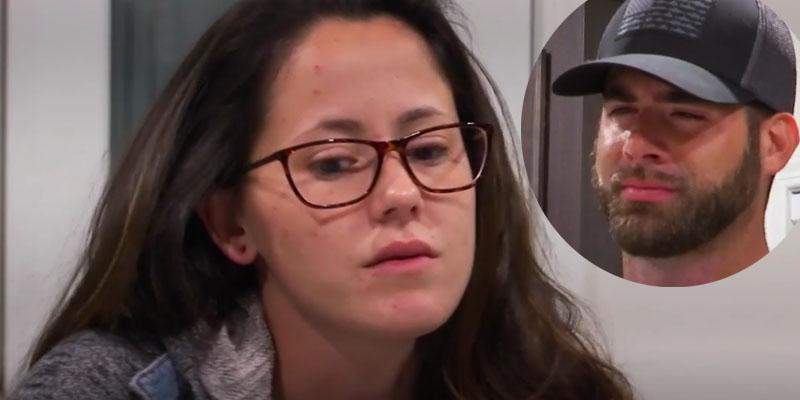 Jenelle Evans is finally opening up about her husband, David Eason's horrible comments about the LGBT community. As previously reported, the comments on Twitter resulted in MTV firing the reality star's husband. "He still feels the way he feels," Jenelle said. "He thinks he shouldn't have said it the way he did, but he still stands by his views." When Dr. Drew asked if there was any way David could change his "views" and Jenelle responded, "He doesn't hate those people." Adding, "He just doesn't want his kids to grow up and be that way." Dr. Drew also asked the mother-of-three what David would do if one of their kids comes out as LGBT and she said, "He will still love them and adore them, but he wouldn't agree with their lifestyle." She further tried explaining the reason behind his comments saying it has to do with the way "he was raised." After a lot of back-and-forth, Dr. Drew changed the subject.
Article continues below advertisement
Jenelle also opened up about the moment that left Teen Mom 2 viewers in complete shock. "It was a crazy situation, right?," Dr. Drew said about the road rage incident involving a gun that was captured by the MTV cameras. "Yeah it was. Ever since then, I've been having PTSD. I've been having nightmares. When the incident happened, I didn't leave my house for the first like two weeks," Jenelle responded. "I didn't think about it. At the time…all I thought about was he almost hurt my son, he almost knocked my son out and that's what pissed me off," she added.
Chelsea Houska opened up about the heartbreaking relationship her daughter, Aubree, has with her dad, Adam Lind, and the impact it has on the 8-year-old. As fans have watched over the last few seasons, the former reality star dad has not be regularly present in Aubree's life, something that Chelsea admitted could be or will impact their daughter. "I am grateful she has someone like Cole DeBoer you know, who has gone above and beyond…but there is no doubt that this has to hurt her or will hurt her deep down some day," Chelsea told Dr. Drew via Skype. Earlier in 2018, Adam's visitation was ordered to take place at a supervised visitation center. One of the main reasons why Adam's visitation got ordered to take place in the supervised visitation center was his drug use. Despite Chelsea not having a co-parent relationship, or any relationship with Adam, she does hear updates about him. She explained, "The one thing I did hear was that he will be like in his house for weeks at a time and just not even do anything, so you have to question what is going on there."
Article continues below advertisement
Leah Messer is a mother that is staying strong for her daughters! Over the season, fans watched her daughter, Ali, suffer from muscular dystrophy. She admitted that doctors have explained to her that over time, the 8-year-old will get weaker and one day she might need "in home care."
Leah also opened up about her relationship with her ex-husband, Jeremy Calvert, a former couple that all Teen Mom 2 viewers are rooting for! While sitting down with Dr. Drew, Nessa, and her BFF Kail, the mother-of-three opened up about her steamy hookups with her ex-husband, that's right...it happened more than once! "It happened like…twice," Leah admitted about hooking up with her ex-husband. "It shouldn't have happened! I don't know why!" Leah also opened up about her new boyfriend and it was adorable!
Kailyn Lowry's secrets are getting exposed! The mother-of-three took the stage with her ex-husband, Javi Marroquin, and the two discussed their steamy hookup session! While Kail claimed she doesn't remember when it happened, Javi chimed in, "Of course I remember!" He revealed it happened within the last six months at the time of filming. "Kail was like, 'Let's go upstairs' and I was like 'Alright, let's go,'" Javi added which made the audience, Dr. Drew, and Nessa, all freak out!
What did you think of the reunion? Let us know your thoughts!