REALITY TV
Jenelle Evans' Baby Daddy Andrew Lewis Claims She's Kept Jace From Him!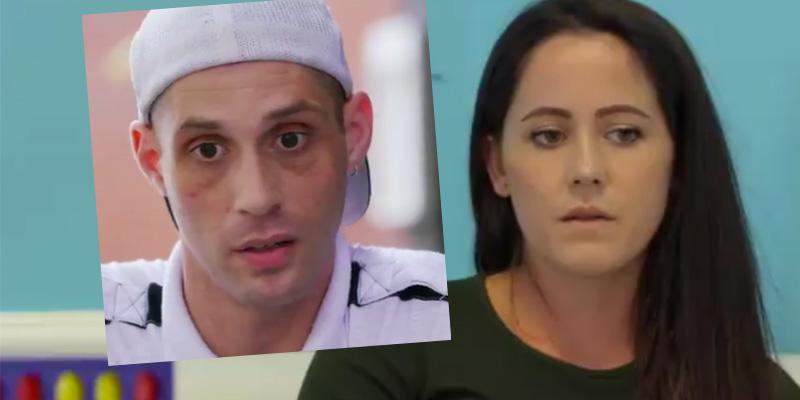 The ladies are fighting for their futures.
Jenelle Evans' past is coming back. After many, many years, the mother-of-three's first baby daddy, Andrew Lewis, is hoping to come back into Jace's life. Fans may remember meeting Andrew on 16 & Pregnant, but since then, he has been absent from the 9-year-old's life. She admitted to her mother Barbara that she was nervous to give Andrew a chance to see Jace, especially if he doesn't plan on staying. Over the years, Andrew's sobriety was a concern, so Barbara planned to fly to New York to see him before allowing any contact with Jace.
Article continues below advertisement
Kailyn Lowry and Javi Marroquin are not on good terms, yet again. The mother-of-three was furious at her second baby daddy after he did not include her in the soccer contact list for their son, Lincoln. Instead, he put down his pregnant girlfriend Lauren Comeau's phone number. Kail ranted about the situation to her producer Patrick saying how unfair it is to do and if it was the other way around, Javi would freak. Unfortunately, Javi told his girlfriend Lauren that he doesn't really care, but he hopes one day they can all get along. Later in the episode, Kail was even more mad because Javi missed a soccer game due to a work commitment with his gym.
Briana DeJesus' family is finally coming together! Within the last few weeks, her first baby daddy Devoin Austin has really stepped it up when it comes to being involved in their daughter Nova's life. Unfortunately, just days before her birthday, the 9-year-old had a dental procedure and had to have some teeth pulled. Despite being a tad nervous, Nova handled it like a champ! After noticing a big difference in Devoin, Briana decided that she plans on pursuing a major change and changing Nova's last name to Austin. Briana even invited him on their family vacation!
Article continues below advertisement
Leah Messer isn't messing around with school. After a busy few weeks for the mother and her daughters, it's report card time! She admitted that she was worried about seeing her daughter's grades following a hectic time in their life. Leah's daughters, Addie, Ali, and Aleeah, all passed their classes with flying colors and she could not have been prouder of her girls. She explained to them that she pushes them to work harder and harder so they can have more opportunities than she did when it comes to education. Leah called both of her baby daddies, Corey Simms and Jeremy Calvert, and told them the good news, and they couldn't have been happier to hear.
Chelsea Houska is ready to finally have some alone time with her oldest daughter, Aubree, but it's not easy! The mother-of-three left her infant daughter Layne Ettie and 2-year-old Watson Cole to attend a mother-daughter Halloween dance. Luckily, Chelsea had her husband Cole DeBoer to step in and take care of the babies all by himself! The mother-daughter duo had a blast and Cole successfully took care of the little ones.
What did you think of tonight's episode? Let us know your thoughts!