REALITY TV
Jenelle Evans Storms Off Stage After Nessa Diab Confronts Her Over 'Hateful Comments' About Colin Kaepernick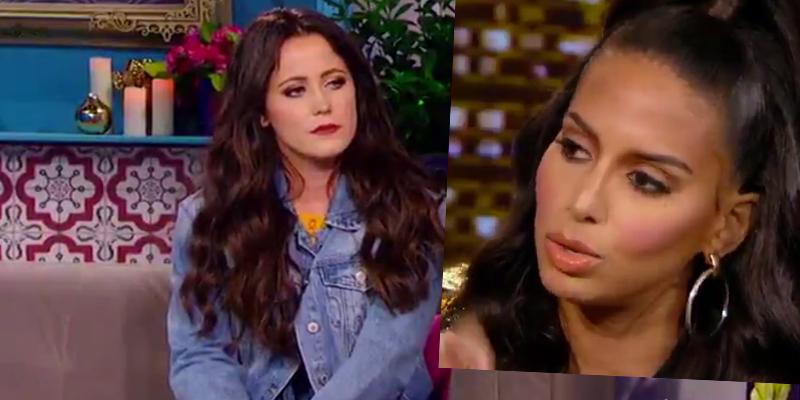 The first part of the Teen Mom 2 reunion was packed with drama.
Jenelle Evans took the stage with Dr. Drew and Nessa Diab, to discuss her storyline this season, but it quickly escalated into discussing more personal problems. Nessa confronted the mother-of-three regarding her social media posts about her boyfriend, Colin Kaepernick. Jenelle denied ever seeing the posts and that she didn't know who Colin was, but that didn't stop Nessa from accusing her of being a hypocrite. After a bit more back-and-forth, Jenelle stormed off stage and said that she was done with the show.
Article continues below advertisement
Leah Messer is a single lady...but will she be for long?! The mother-of-three opened up more about her shocking split with Jason Jordan and admitted that the breakup was a long time coming. But despite the split, Leah and her ex-husband, Jeremy Calvert, took the stage together and discussed the up-and-down romance. The two are both single and seemed to be open with the idea of getting back together!
Kailyn Lowry is definitely a single lady! After a rocky season filled with a lot of ups and downs with Chris Lopez, she admitted that eight weeks prior to filming the segment, they called it quits because she was "humiliated" following a baby shower event she threw for their friends over a past cheating scandal. Besides dealing with baby daddy drama, she also gushed over her new empire, Pothead.
Briana DeJesus has never been happier! The mother-of-three opened up about her romance with her boyfriend, John, and admitted that she can't wait for the future. John joined Briana on stage and discussed marriage, babies, and life with her is something he is looking forward to!
What did you think of the reunion? Let us know your thoughts!