REALITY TV
Joy-Anna Is Losing SO MUCH Weight & Fans Are Freaking Out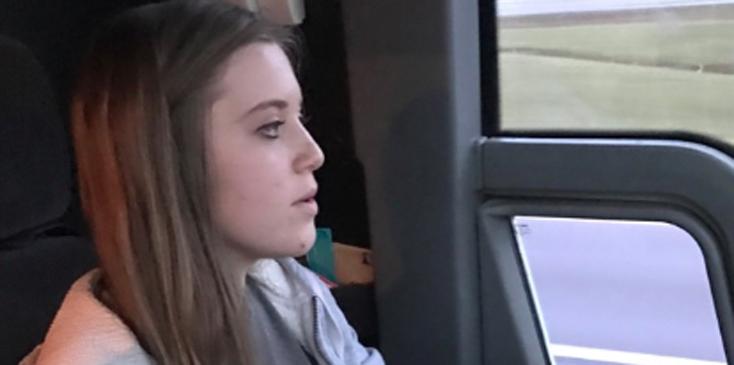 Wedding slim-down or cry for help? Joy-Anna Duggar recently debuted a small figure and Duggar fans are concerned.
In a new photo, shared to the Duggar's Facebook page, Joy-Anna looks noticeably smaller. While some fans praised the recently engaged Duggar for her slim-down, others worried she might have lost the weight in an unhealthy way.
"I couldn't believe that was Joy!! She lost weight!! Wow. So beautiful!!!" one fan wrote.
Article continues below advertisement
While another follower simply commented: "Joy looks so skinny. I hope she's okay."
Some fans were quick to blame Joy's sudden weight loss on her upcoming nuptials.
"WOW!! Joy is really thin! I guess she is getting ready for her wedding," said one follower.
Others feared the 19-year-old has stopped eating.
"She looks good but she is not a naturally thin person. She's probably starving herself. She won't keep the weight off. She will gain again after the wedding," one fan wrote.
"Why it is important that the Duggar girls become underweight? It is not fair for the young ladies in the Gothard IBLP to be under so much pressure to be thin," another wrote.
Joy's mom, Michelle, has openly discussed her own struggles with food, as she admitted to suffering from an eating disorder as a teen.
"I found out that genetically I could put on weight easily, but with my activities, gymnastics, and cheerleading, it was important for me not to," she told People. "I would look around and compare myself to my friends, saying, 'Oh my, she's so small,' or 'She has such skinny legs.' "
A few years ago, the older Duggar girls also opened up about their weight-loss struggles in their book, Growing Up Duggar.
"All of us have gone through times when we've felt we need to lose weight," they admitted. "We've found that most of us older Duggars have a tendency to gain weight."
Joy-Anna and her fiancé, Austin Forsyth, are set to say "I do" on Oct. 28.
What do you think about Joy's dramatic weight loss? Sound off in the comments!