REALITY TV
Kailyn Lowry's Feud With Briana & Brittany DeJesus Is CAUGHT On-Camera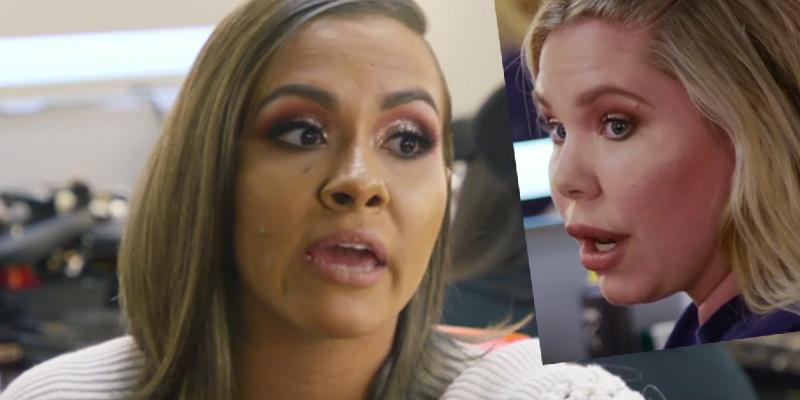 Looks like everyone can't just get along!
Kailyn Lowry and Briana DeJesus' explosive feud is just getting started. As seen on last week's episode, the ladies came face-to-face for the first time since rumors circulated that Kailyn's ex-husband, Javi Marroquin, was interested in dating the newest mom on the show.
In the dressing room Briana's mom, Roxanne, and her sister, Brittany both went off on Kail claiming that she is "salty" over Javi moving on...but Kail claims that is not the case. After feeling like she was "ganged up on" in the makeup room, she went into her own dressing room and cried, which her friend Bone was furious over. Bone attempted to squash the drama and went to Briana's dressing room, but things only got worse from there! Brittany threatened Bone multiple times in the hallway saying she is going to hit her. After all the girl fights, Javi arrived to the set and attempted to fix the issue...but failed. He wanted to go to Kail's dressing room alone and hash out any problems, but Briana insisted on going too so all three could sit down and talk. Once Kailyn opened the door, she wasn't having it. She refused to have their much needed discussion on-camera. After some words were exchanged between Bri and Kail, she slammed the door.
Article continues below advertisement
And while Jenelle Evans' co-stars fought with each other, she had to face her family members...she she doesn't speak to. After sitting on stage with Dr. Drew to discuss her custody battles and her husband, David Eason...the two stormed out! Jenelle agreed to return to the set to finish filming that day, and it didn't end well! She started drama with Nathan Griffith's girlfriend, Ashley, after she saw her hug her mom, Barbara.
Speaking of storming out, Chelsea Houska, Leah Messer, and Kailyn all sat down with the executive producers to discuss their future on the show. All three ladies were furious over what occurred earlier that day and threatened to walk away from the show if nothing changes.
What did you think of tonight's episode? Let us know your thoughts!