REALITY TV
Kailyn Lowry BLASTS Briana DeJesus During The Reunion: 'I Was Ready To Fight!'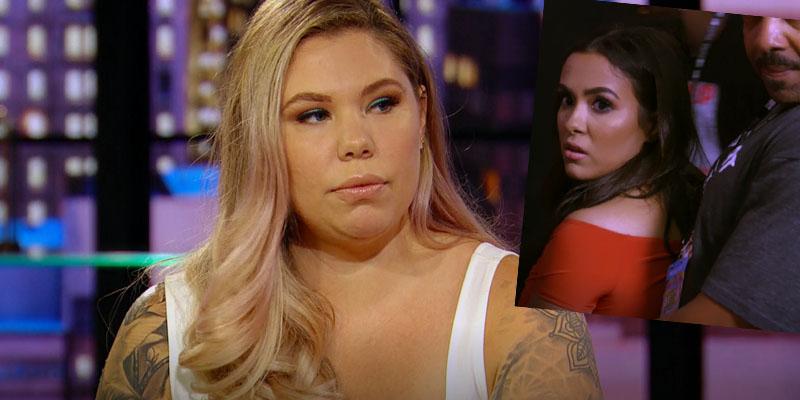 The feud between Kailyn Lowry and Briana DeJesus exploded on the reunion set while attempting to film the Unseen Moments...but it's far from over!
First, Briana opened up abut her side of the fight with Dr. Drew. "It just escalated. Things escalated. I said s**t that I probably shouldn't have said," Briana admitted. Dr. Drew wanted to understand the feud more and asked, "Like what? Did you cross some boundaries, some line?" Briana explained, "No she crossed mad boundaries with me! That's my whole point." The mother-of-two was joined by her sister, Brittany, who slammed her sister for getting involved in this drama over her now ex-boyfriend, Javi Marroquin.
Article continues below advertisement
Briana also opened up about her rocky relationships with her baby daddies, Nova's dad, Devoin Austin and Stella's dad, Luis. The mother-of-two broke down in tears after Dr. Drew asked for an update in their co-parenting. She revealed that Devoin has been in and out of their daughter's life and it's been difficult trying to explain that to their 6-year-old. As for Luis, he moved back to New York and doesn't reach out about Stella, but does pay for her daycare.
Kailyn hit the stage with Dr. Drew and Nessa to discuss the violent brawl that occurred. "I want to know what happened in the room. Briana was alleging that you asked her to punch her," Dr. Drew asked. "No, I told her to get up because I was ready to fight one-on-one in a room with nobody there because I don't need cameras, I don't need an audience," Kail told him. She added, "When she didn't have an explanation for why she felt comfortable saying what she said…then I said to 'square up!' And she wouldn't! She was like, 'why are you acting like this?!' So, I'm shocked at how everything played out on stage."
Article continues below advertisement
Kail opened up about rocky relationship with her second baby daddy, Javi. She claimed that her ex-husband is addicted to love and that he dated Briana for publicity. As for Jo Rivera, she admitted that their co-parenting is getting better, but she was still upset signing for 50/50 custody of Isaac with him. With her third baby daddy, Chris Lopez, Kail broke down into tears talking about the love she felt for him. She admitted to still being in love with him and was unsure about the possibility of getting back together because she knows it "wouldn't work."
Jenelle Evans' mother, Barbara, sat down with Dr. Drew to discuss her rocky relationship with her daughter. As previously reported, Jenelle didn't attend the reunion taping in New York City and Barbara claims it was because David Eason didn't let her. "It's been kind of a tough run lately. Do you feel like Jenelle is okay?," Dr. Drew asked Barbara before she fired back, "No, I don't feel Jenelle is okay!" She added, "David is going to hurt her."
What did you think of the reunion? Let us know your thoughts!