REALITY TV
Heartbreaking! Leah Messer Admits Ali's Battle With Muscular Dystrophy Is Getting Worse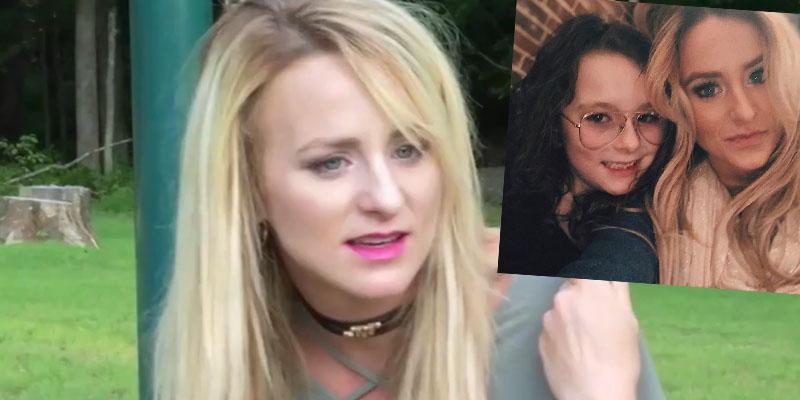 Grab a tissue.
Leah Messer and Kailyn Lowry took their first vacation together, but of course they couldn't stop thinking about their little ones at home! The mother-of-three opened up to Kail about her daughter, Ali's muscular dystrophy. She revealed that the 9-year-old is bullied at school and her twin sister, Aleeah, isn't handling it well. Due to the disorder, Ali requires more attention which can result in Aleeah's feelings being hurt. While on the trip, Leah called her ex-husband, Corey Simms, to check in on the girls and to discuss how Ali has admitted she's been feeling very ill and throwing up. Leah became noticeably upset about discussing how horrific the disorder is getting as she gets older and how the 9-year-old is aware of the changes happening.
Article continues below advertisement
From exes to her mother, Jenelle Evans isn't getting along with many people. The mother-of-three and her second baby daddy, Nathan Griffith, still aren't getting along which is causing issues with the drop offs for Kaiser. Since Jenelle's husband, David Eason, was fired, he was unable to go to the drop offs and she didn't want to go alone. While spending time with Kaiser, Jenelle's mom, Barbara, called Nathan to discuss an incident where David allegedly hit Kaiser. Nathan and Barbara met up together to discuss his next moves when it comes to custody arrangements and he revealed that he is ready to fight. Now that the charges were dropped, Nathan was able to start the process of getting more time with his son.
Briana DeJesus was ready to go under the knife...but had a very unexpected visitor! Her ex-boyfriend, Javi Marroquin, showed up down in Miami ready to take care of her but...it was awkward because of a certain podcast. The mother-of-two slammed Javi for going on his ex-wife, Kail's podcast, Coffee Convos, to discuss their rocky relationship. However, Javi was just as mad at Briana because she planned for her ex-boyfriend, Dre, to come take care of her after her plastic surgery. Their fight got so heated that Javi revealed that he has a girl that is saying she is willing to move to Delaware for him to give their relationship a try...which causes Briana to break down into tears. Javi assured Briana that he doesn't want to settle down with the girl and that he wants to be with her.
Article continues below advertisement
Chelsea Houska's daughter, Aubree, reunites with her little sister, Paislee! After almost 5 months, the pregnant reality star makes arrangements with her first baby daddy, Adam Lind's second baby mama, Taylor, for the sisters to see each other.
As for Kail, she was also experiencing trouble with her third baby daddy, Chris Lopez. While on vacation, Chris contacted Kail to see their one son together, Lux Russell, despite not making an effort for months. Kail and her friends slammed Chris for being an "Instagram Dad."
What did you think of tonight's episode? Let us know your thoughts!