REALITY TV
Maci Bookout's Baby Daddy Ryan Edwards Caught Drinking On-Camera After Rehab Stint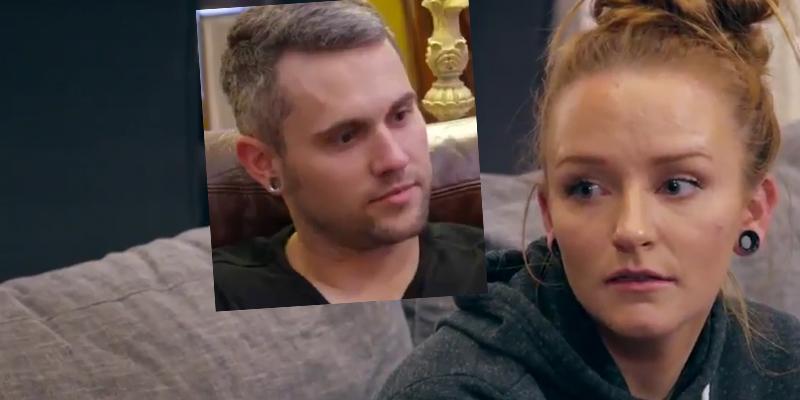 Maci Bookout's first baby daddy and ex, Ryan Edwards, is officially out of treatment and ready to move forward. However, the mother-of-three isn't sure if she wants to discuss anything with Ryan, especially because she has an order of protection against him after he threatened her husband, Taylor McKinney. Still unsure with what to do, Maci sits down with a specialist to ask for advice on how to handle the situation with their son together, 10-year-old Bentley.
Article continues below advertisement
Even though Ryan's wife, Mackenzie, and family members are proud of him for completing his treatment, they are still worried. While out to dinner, Ryan ordered a beer, which Mackenzie clearly was not happy about. He claimed he just wanted a beer with his meal, but Mackenzie didn't let the opportunity slip away to let him know that moving forward she wants to see actions and not words when it comes to his recovery. Before Maci met up with Ryan, she learned that he was arrested again when he skipped out on a $36 dollar bar tab. Later on, Ryan had court and his dad, Larry, updated the crew. He revealed that he will need to serve 90 days in jail.
Catelynn Lowell and Tyler Baltierra overcame a lot of ups and downs last season and were ready to move on. The couple had a 30 day separation and after it was over, they were ready to move back in together. As we saw on the previous season, the two are expecting their third daughter together. Before their daughter arrives, the two attempted to get their daughter Nova on a schedule, which wasn't an easy task.
Article continues below advertisement
While Cate remained at home prepping for their baby, Tyler visited his dad, Butch, in Texas. He completed another rehab stint, years after struggling with addiction, and it didn't go as planned. Butch admitted that he was smoking marijuana again, which left Tyler disappointed.
Cheyenne Floyd's co-parenting relationship with Cory Wharton was going great...until he started dating someone new. After finding out the two share their daughter together, 2-year-old Ryder, they were able to come together as a family. However, Cory broke the news to Cheyenne that he was talking to his current girlfriend Taylor Selfridge again and she didn't take the news that well. The two got into an explosive fight over having their significant others around Ryder. After experiencing their first official fight, the two ended making up.
While Cory made his relationship with Taylor Instagram official, his daughter was sick at home and hospitalized. Due to her condition, VCLAD, Cheyenne took the 2-year-old to the hospital to make sure everything was safe. She explained that she posted about the incident on social media to help other parents know they aren't alone, but Cory and his friends thought otherwise. Cory admitted he thinks she did it out of "spite."
Article continues below advertisement
Amber Portwood quit last season, but thanks to her fans...she is making a return! The mother-of-two openly discusses her battles with bipolar disorder and depression, but this season she is ready to open up more about her treatment to help viewers. However, she hit a bump in the road when she came across news about Teen Mom 2 star Jenelle Evans. Words were exchanged back and forth via Instagram Live and it didn't end on good terms. Amber insisted that she was truly worried about Jenelle.
One place that Amber kept private was her therapy sessions, but this season changed that. She welcomed cameras into her session with her boyfriend Andrew Glennon. They discussed her bipolar disorder and how badly she wants to get better for the sake of her family.
What did you think of the season premiere? Let us know your thoughts!