REALITY TV
AWKWARD! Nick Viall Boots Contestant Mid Date: 'I'm Living My Nightmare' – Inside Week 2 Of 'The Bachelor'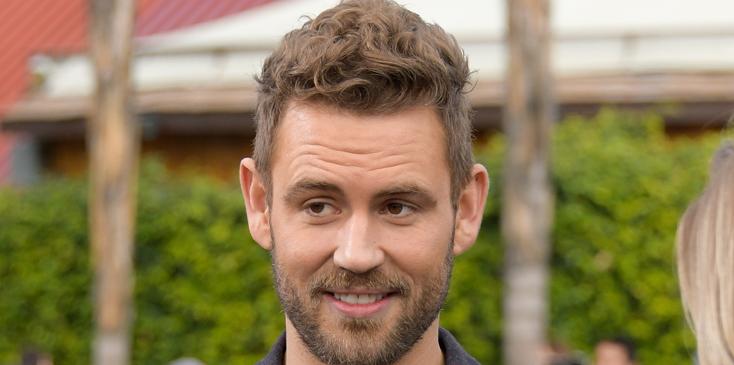 The one-night stand that wouldn't get away!
Two episodes in and things are already heating up on The Bachelor!
After one of the most cringeworthy dates in Bachelor history Nick abruptly sent Liz, Jade Roper's bestie and maid of honor, home in what was only his second group date of his first week as the Bachelor – that has to be a new record!
Liz's journey out the Bachelor door began at ironically the Museum of Broken Relationships. If the setting wasn't awkward enough, Liz decided to take it up a notch and reveal her and Nick's secret past to the entire group during a "fake" breakup scene!
Article continues below advertisement
**Cue the second-hand embarrassment.
"So, Nick. When I first met you it was in a hotel lobby and I immediately was attracted to the way that you carried yourself and how present that you appeared to be," she shared.
"The next day I saw you at a celebration of love and friends at Jade and Tanner's wedding… I know that we had a lot of fun, but I've been hurt and I wasn't ready to fully let you in. I hope that when you find the girl you're willing to fight for, that you wish you would've fought for me..."
Liz's raw, heartfelt, and extremely awkward "breakup speech" (a drastic change from the funny and lighthearted scenes of her fellow contestants) seemed to annoy Nick more than anything and solidify her ultimate elimination, as Nick looked not only uncomfortable but disinterested in Liz's strange monolog.
"Liz's performance definitely made me a little uncomfortable," Nick shared to the cameras. "I was not expecting Liz to basically tell our dating story in front of the other five women. I don't know what Liz has been sharing with the other women but I think it just reiterates the fact that we need to have a serious talk about her being here and if it's something that I want to continue or if it's something I feel isn't the best situation for either of us."
Article continues below advertisement
Later on in the night, it became even more apparent that Liz's speech just didn't sit well with Nick.
"I'm living my nightmare," he confessed during a solo interview. "Liz decided to basically tell her version of the night we met. Up until this point I've been operating with the assumption that Liz hasn't told anyone because we haven't had the chance to talk and that's she's giving me the same consideration that I'm giving her. But I'm realizing that might not be the case. 'Has Liz started telling some of the women?' 'Do some of the women already feel like I'm keeping a secret from them?' That could be a problem."
To Nick's unfortunate surprise he later found out that Liz did in indeed share their sexual past with one of the girls, Christen, which definitely seemed to seal Liz's fate.
"First I want to find out why Liz is here because when I met Liz she decided she didn't want to exchange numbers so I moved on and I haven't heard from her since, until now," Nick frustratingly said during his camera interview. "If Liz wanted the chance at finding love with me she had every opportunity for the past seven months to try. I can't help but wonder if Liz wants to use our past to be on TV."
Article continues below advertisement
**Cue Liz and Nick's second super awkward convo!
"As far as us having a past, I don't think there's anything wrong with that," Nick said to Liz. "We're two adults who had a fun night. Things got a little crazy. When you showed up at the Bachelor house that was definitely a pleasant surprise because I did have so much fun with you. But at the same time, it certainly raised a lot of questions I had."
"We have mutual friends. If you wanted to pursue a mutual relationship with me why didn't I hear from you"?
The doula then responded: "Maybe you asked for my phone number but I didn't really know you … As much as I could have gotten your number in the last six months I also knew during that time you were shooting in Paradise and doing your own thing and I didn't want the wrong impression to come off."
Article continues below advertisement
Nick was not feeling her excuse, or lack thereof, as he quickly responded: "I was in paradise for a month."
Liz then got a little tongue-tied but mustered up the strength to confess that she doesn't "necessarily like phone conversations if she already has an established relationship with somebody." #Huh
Finally, Nick had enough of her attempt at defending herself (later telling the camera's "the more I talk to Liz the less she makes sense") and simply gave her the boot.
The episode then ended with an expected "To Be Continued" leaving Bachelor fans thirsting for the women's reaction to Liz's abrupt elimination, and The Bachelor's second rose ceremony! #UntilNextWeek
The Bachelor airs Monday at 8 pm ET on ABC.