REALITY TV
'Real Housewives Of Atlanta' Star Tanya Sam Talks The 'Sunny' And 'Shady' Side Of Her Costars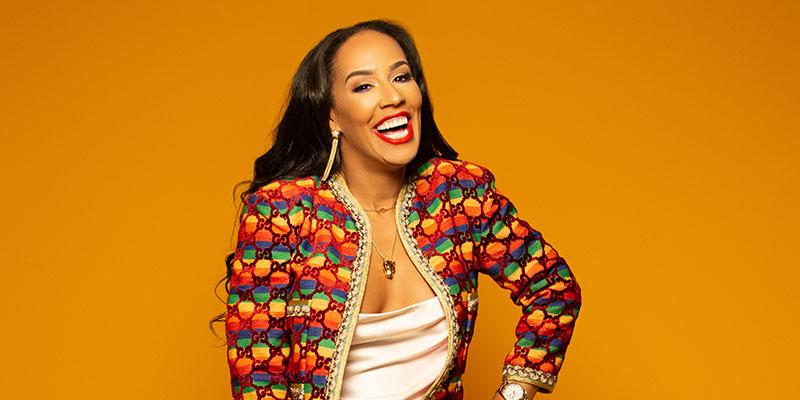 Tanya Sam is the latest star to join Bravo's long running reality series The Real Housewives of Atlanta. While she's already seen her share of drama on the show, the technology professional insists things are peachy keen (no pun intended) with her costars!
In an exclusive interview with OKMagazine.com, Tanya revealed what drove her to join RHOA, how things are going with her and pal NeNe Leakes after their explosive fight from Sunday's episode, her thoughts on costar Kandi Burruss joining Celebrity Big Brother and if she would want to return for season 12.
Article continues below advertisement
OK!: What was the driving passion behind you being part of RHOA?
Tanya: When the opportunity came around, I mulled it over in my head. One of the things that impassioned me coming onto the show is that it's so diverse in terms of the rock star women who make this city as amazing as it is. As a black female, I work in technology, have a diverse background from RN to technology, I travel all over the world from San Francisco to here, and so many times people are pretty amazed by where I am in my life and I said this would be an interesting thing to showcase on the show.
OK!: Was the filming experience anything like you'd imagined it?
Tanya: It felt more natural than not. Hardest thing has been juggling my real work life with the show life. You're still filming, working doing hair and makeup, that was tough but this show is reality. What you see is what you get.
OK!: Things kind of took a turn for the worse with your pal NeNe on Sunday night's episode. What's your take on her calling you ignorant?
Article continues below advertisement
Tanya: I was pretty surprised. Ignorant is a strong word and when I realized she was directing it at me I was pretty shocked. I can't say anyone has ever called me that before. Now we understand where she came from and where my intentions were. It's like a family or a sisterhood, there are days that are sunny and there are days that are shady.
OK!: I saw on your Instagram Stories that NeNe and the girls all went out to Hibachi with you so should we assume that all is well with you?
Tanya: Yes, everything is well. We are back to sunny.
OK!: Outside of NeNe, as you had an existing friendship, who did you bond with the most on the show?
Tanya: I went into this wanting to know all the girls, so I genuinely like all of them. I've had a great time with Shamari DeVoe, she's so nice and sweet which I love. Same goes for Porsha Williams. Our guys have this "bromance" so we all went out on New Year's with Shamea Morton and her husband. I feel like there's this energy between us where we all like to have a good time. Cynthia Bailey is a sweetheart as well and Kandi I respect as a boss. It's just a natural fun sisterhood.
Article continues below advertisement
OK!: What are your thoughts on Kandi entering the Celebrity Big Brother house?
Tanya: I'm incredibly excited! One thing I love about Kandi is that we are both entrepreneurs and we like to win. I'm like, "Girl go in there, show what Atlanta can do and just crush it!"
OK!: I know you and Paul have been engaged for a bit. Will the wedding happen in 2019?
Tanya: Not revealing details, wait and see, but good question! Stay tuned. We're working on all sorts of details and fun stuff.
OK!: Would you got back to RHOA for season 12 if you were asked?
Tanya: Absolutely! These are my girls now, I'm having a great time and would love to show more of what I do.