REALITY TV
Ryan Edwards' Wife Mackenzie BLAMES Maci Bookout For Triggering His Drug Use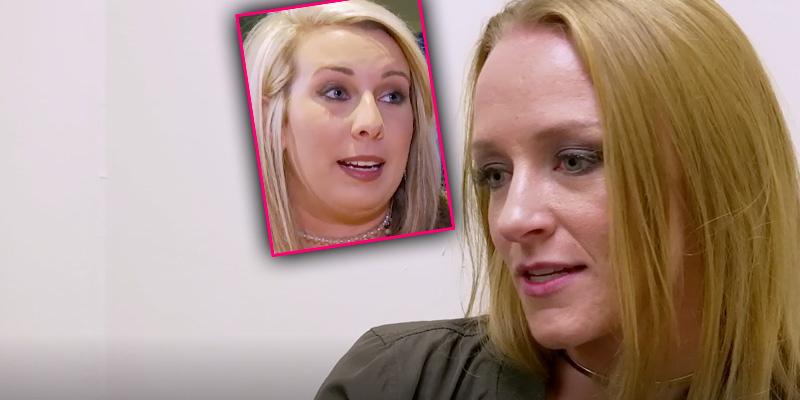 The new season of Teen Mom OG has finally kicked off!
Maci Bookout was still dealing with her ex and first baby daddy, Ryan Edwards' drug struggle. Bentley's father checked himself into rehab after the season finale episode from last season. Maci coming face-to-face with his wife, Mackenzie, at the reunion special didn't go well, as seen last season. The two got into an explosive fight on the stage and after Mackenzie stormed off, she came face-to-face with Amber Portwood, who blasted her! Later on in the episode, Mackenzie went to visit Ryan and she opened up about the therapy. She explained that Maci's name "triggered" Ryan's frustration. "I said one name and boy was he...," Mackenzie started to say which the producer replied, "You literally said Maci's name and he already triggered during the therapy session?" Ryan's wife said, "He was pissed." She continued, "Ryan feels like belittled and that he's never been given any credit, which he hasn't. And the more I think about it, the more mad I get." Mackenzie fired, "Ryan is not a bad guy." According to Mackenzie, Ryan was allegedly spending $10,000 on drugs a week.
Article continues below advertisement
Amber has had enough with Matt Baier! Finally, she put her foot down and while in New York, opted to stay a few more days since she wasn't on the best terms with Matt. "Nothing has changed at all, so it's hard, but I just feel like I'm trickling down a little bit with the relationship, slowly going down as he keeps treating me like s**t," she explained to her producer. "I'm just feeling my way through this right now, in any way I can and it's nothing but stress." Amber's cousin, Krystal, asked the torn reality star if she is scared to be alone again. Amber replied, "No, I'm scared that I developed this relationship with a guy that I loved and am I making a mistake if I let him go?" She decided to speak to a few psychics and she was left in shock over some of their predications which included having a second baby and how marriage was in her future. When she returned home, Amber faced Matt and he admitted to the cameras that he relapsed. She also told him how she would like to take a pause on their engagement, which left him stunned.
Tyler Baltierra and Catelynn Lowell have been supportive of Butch trying to stay clean. The couple decided to have Butch over for dinner and to talk about his sobriety and emotions started flowing. Butch admitted to failing at staying clean and broke down because he doesn't want to use anymore. "I'm going to go to church tomorrow," Butch tells his son, who replied, "You're going to go to church? Well, I can't argue with that. Go to church." Butch explained to him, "I think I'll just go there and get my spirituality right." Afterwards, their conversation turned emotional. "You think you've been doing pretty good staying clean and stuff?," Tyler asked his dad before he replied, "no" with his head down.
Farrah Abraham had an exciting time in New York City during the reunion taping because...it was her birthday! She threw herself a birthday party during her time there and invited some friends and family, including her mother, Debra. In the end, Debra's fiance, David, went to the party and he got into an explosive fight with Farrah's dad, Michael.
What did you think of the season premiere of TMOG? Let us know your thoughts!