REALITY TV
Tyler Baltierra SLAMS Sister Amber Over Rehab Stint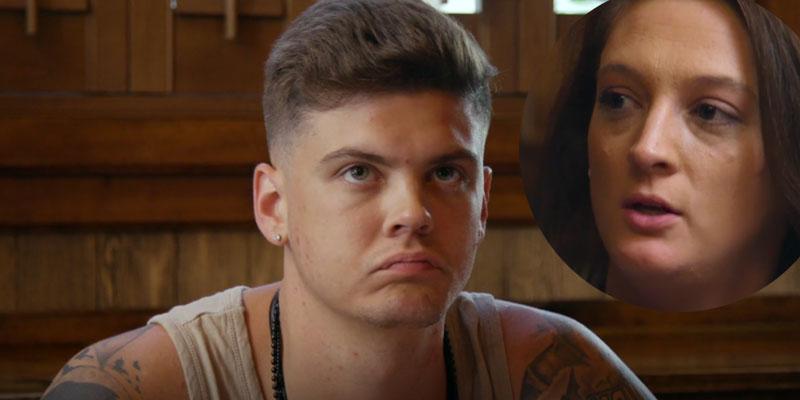 Tyler Baltierra has reached a breaking point for many people in his life. The reality star dad was put in a terrible situation after his sister, Amber, trashed his home that he shares with his wife, Catelynn. The couple wasn't living in the home at the moment so they were letting Amber stay there, however, it was destroyed. Tyler ended up having to kick Amber out of the home shortly before it was decided that she would be checking into rehab. After Amber was checked into rehab, Tyler, Cate, and his mother, Kim, all sat down for a bite to eat to discuss his sister checking his rehab. While discussing Amber, Tyler's mom called him out after he made a few comments and said, "So you have no empathy for people going to treatment centers? And asking for help?" She added, "You sound very bitter with your dad, and Amber, and maybe even Cate."
Article continues below advertisement
Amber Portwood's new little family is everything she's wanted...and needed! The mother-of-two opened up about how her romance with her boyfriend and now second baby daddy, Andrew Glennon, made her into a better woman. While her brother, Shawn, was visiting them in California, he admitted that the first time he met Andrew, she was pregnant, and the second time, James is here! Despite reminding everyone that their romance was definitely quick, Shawn admitted that he's never seen his sister happier. Amber couldn't agree more and admitted that following her split from Matt Baier, she revealed that she got back into drinking again and Andrew started drinking with her. However shortly after the two learned they were pregnant so they both put the brakes on drinking which lead them to realize to be happy all they needed was family and love.
Bristol Palin is starting over but first...she has to deal with her ex-husband, Dakota Meyer, and organizing a custody arrangement for their daughters. The mother-of-three opened up about how her divorce to Dakota impacted her son, Tripp. The mother-of-three revealed that her ex hasn't reached out to his former stepson at all and it's leaving him so upset! "He hasn't reached out to Tripp and Tripp is crushed by it," she said. "It breaks my heart." While throwing the first pitch at a baseball game, Dakota opened up about how he feels like a "failure" in his life due to his marriage and career.
Article continues below advertisement
Cheyenne Floyd is one worried mama! She explained to her cousin who was visiting that just two days after bringing home her adorable daughter, Ryder, she realized that something was wrong with her baby girl. She then learned that the daughter she shares with her co-star, Cory Wharton, has a genetic disorder called VCLAD which means she has difficulties processing certain fats and makes her feedings difficult. The parents took their daughter to a doctor's appointment to learn more about her future when it comes to taking the medications and the results came back better than they expected!
Maci Bookout is put in an awkward position because of her ex, Ryan Edwards' parents. While staying at his Mimi and Papa's house, Jen and Larry, they informed Bentley that him transferring to a private school would be beneficial for him academically and athletically. Bentley was all about the idea of looking into the private school but once he told his mom, she wasn't thrilled with his grandparents giving him this idea without her approval because of the cost. Ryan's wife, Mackenzie, was also in the episode and supported Jen and Larry's thoughts on the private school, however, Maci was not involved in the conversations! Later on Maci brought up the conversation to her husband, Taylor McKinney, who wasn't thrilled with the idea because they also have two younger children that aren't far behind Bentley!
What did you think of tonight's episode? Let us know your thoughts!