STYLE
Accessorize for National Friendship Day With These Stylish Items!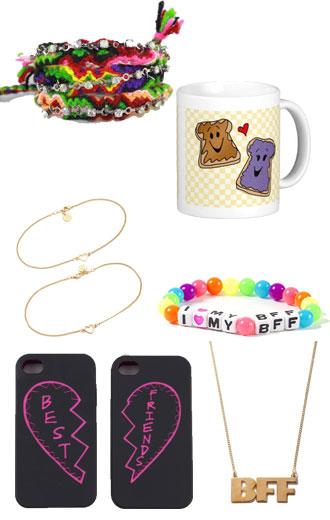 Who's the person you'd most like to have Ryan Gosling rant sessions and Real Housewives marathons with? Our bet is your closest friend, your bestie, your BFF, your soul sister. Today is National Friendship Day! It's a day that gives you the opportunity to completely tell the world how much your friendship really means to you, which really means hashtagging #BFF in every single one of your Instagram, Twitter, and Facebook posts.
Article continues below advertisement
BFF Necklace, $18, fredflare.com
Peanut Butter and Jelly Mug, $15.85, zazzle.com
I Love My BFF Beaded Bracelet, $3.50, Claire's Stores
Rebecca Minkoff Best Friends iPhone Case, $38, neimanmarcus.com
Jules Smith BFF Ankle Bracelets, $69, shopbop.com
Gypsy Friendship Bracelets, $45, hautebetts.com
The Eagle Bracelet by Beka&Bell, $145, bekaandbell.com
What are you doing on BFF day? Hangin' with your bestie? Tweet @OKMagazine and leave a comment below to let us know!