STYLE
Blake Lively to Dye Her Hair Blue?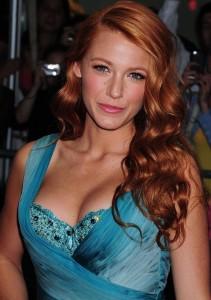 When Blake Lively is honored at the Time 100 Gala held Tuesday at NYC's Frederick P. Rose Hall, the Gossip Girl beauty, 23, debuts a new red hue, and opens up about the importance of her family when it comes to everything from choosing her hair color to swimsuits!
As the youngest of five, the California girl was heavily influenced by her big brother Eric and half-siblings Lori, Jason and Robyn when she was growing up. In fact, her mom and dad were the first to get the news that she would be celebrated as one of Time's 100 Most Influential People In The World.
Article continues below advertisement
Who has been the most influential person in her life this year?
"My family," she tells me. "My whole life, every single one of my family members. I have four older siblings, and throughout my life, little bits and pieces of knowledge … just watching the way they live by example. My brother, when I was 15, took me out of school for a month-and-a-half so I could travel around Europe so that I could see the world, and have the desire to be more cultured and see more of that as an adult. It did inspire me."
Their authority covers many aspects of her life.
"I don't shop for swimsuits," she says. "I just borrow my sisters'!"
Even the little ones' opinion counts.
"My nephew wants me to dye my hair blue. He said 'I don't like red hair, why don't you dye your hair blue?' That's what's next."
For now, he'll have to settle for red.
"It's for a movie called Hick. I love it. I'm playing a role. I don't feel like myself!"