STYLE
DJ Pauly D Chats About 'The Pauly D Project' and Being a Prankster!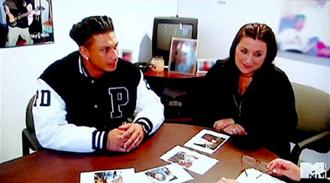 This season on The Pauly D Project, there have been some great moments for DJ Pauly D, signing with 50 Cent, touring with Britney Spears, a residency in Las Vegas and having his hands immortalized at Planet Hollywood, just to name a few.
On last night's season finale, Pauly's publicist, Amanda Ruisi, owner of AKR Public Relations, surprises Pauly and takes him back to his high school for the first time since he appeared on Jersey Shore. Pauly takes Amanda on a tour of his old classrooms and later that night, Pauly has another surprise in store when he guest DJs the school's winter dance.
Article continues below advertisement
Pauly sat down with OK! to give us the inside scoop on what Amanda, who was introduced in episode 6: 'Where The Heart Is', does and how influential her role is.
When did you two start working together?
We have been working together for about 2 years now, we actually met at her birthday party in NYC and hit it off instantly. Plus, she has such a great reputation in the industry that I knew I had to work with her.
In an episode of "The Pauly D Project," Amanda arranges for you to work with A Wish Come True Inc., to meet a young boy with cancer, Dereck. Did you know going into meet him, how that would affect Amanda?
Yes, I knew Amanda had lost her mom to cancer and that this would hit close to home for her, it definitely made it that much more meaningful. Dereck is a great guy, he reminded me of me at that age, we still keep in touch to this day, that was one of the best days of my life. It's really important to both Amanda and I to be able to give back.
Article continues below advertisement
How vital is the publicist role you in your life?
It's everything, Amanda controls how I look, my brand image, everything and she goes beyond what is expected. She works 24 hours a day. She has become more than a publicist, she is definitely one of my closest friends now — she even talks to my mother daily!
You are known for being the prank war master, you recently told a joke on Jay Leno about how you pulled an April Fools' prank on Amanda? What was her reaction?
I was in Atlantic City, kicking off my residency at The Pool After Dark at Harrah's and Amanda couldn't make it so she sent her assistant, Sam. She texted me after the performance to make sure everything went okay and that no one was there who shouldn't be. I told her of course, everything went great but there may be one issue. I told her I brought a porn star back to my room and she may have had a camera and there was a sex tape out there. Amanda, who is very conservative anyway, FREAKED!! She called my security, she blew up Sam's phone. Finally I go April Fools!!! She goes, "I was having a heart attack, I thought I was going to be up all night on the phone!"