STYLE
EXCLUSIVE PHOTOS: Kelly Osbourne's Spring Makeover — I'm Finally Happy!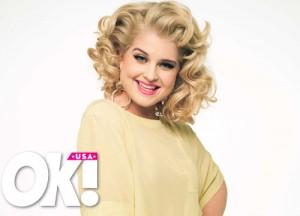 For most of her life, she admits, Kelly Osbourne, 26, was called "fat and ugly — and it broke my heart." But that was then, and this is wow! Her Dancing With the Stars partner, Louis van Amstel, set her on track with a new diet, and Kelly lost an amazing 50 pounds in 18 months. At 5 feet 2 inches tall, she's now a svelte 112 pounds. "I never expected to see myself like this. I never thought this would be me," she says. In an exclusive interview and photo shoot with OK!, Kelly talks about her weight-loss journey and how it changed her, inside and out.
Article continues below advertisement
Is looking this good the best revenge?
I used to open a newspaper and see "Ozzy Osbourne's Beached Whale of a Daughter" or something like that. I would be like, "I hate myself, I hate my life, I want to die." To see that and know the entire country is at breakfast reading it, it's horrible. So to do this now is the best.
How have you changed?
I grew up a lot. I believe that every human being has to go through things to find out who they really are and what they want. Life isn't easy. You have to make mistakes and learn from them.
What would you have said a few years ago if someone told you you'd be doing fashion and bikini photo shoots?
That they're lying! Even now, it's still kind of "wow." I thought people would see me like that forever. And just to see how things have changed in that one year, it's kind of incredible.
Article continues below advertisement
Now that you can wear designer clothes, is it exciting?
It's a dream come true. The thing is, I was never fat. There is real-world large and then there is Hollywood large, which is a size 6. That's not fat!
Do you want to be a role model?
I do, but it's not a role I necessarily like because I could do something that could disappoint someone, and knowing that you disappointed someone sucks. With those young girls out there who do look up to me, that can be scary. But when someone sends a Tweet like "I just want to let you know that you make me feel comfortable being me," that's really nice.
What is the best thing you bought recently?
Everything! The fact that I could wear a midriff top... I couldn't believe it! Everything feels good to wear now.
How do you feel about becoming the new spokesperson for Madonna and Lourdes Leon's Material Girl line?
Lourdes is a really smart girl. I love the way she dresses, so having them ask me was a really big compliment.
FOR MORE OF KELLY'S EXCLUSIVE INTERVIEW PICK UP THIS WEEK'S ISSUE OF OK! ON SALE EVERYWHERE NOW!